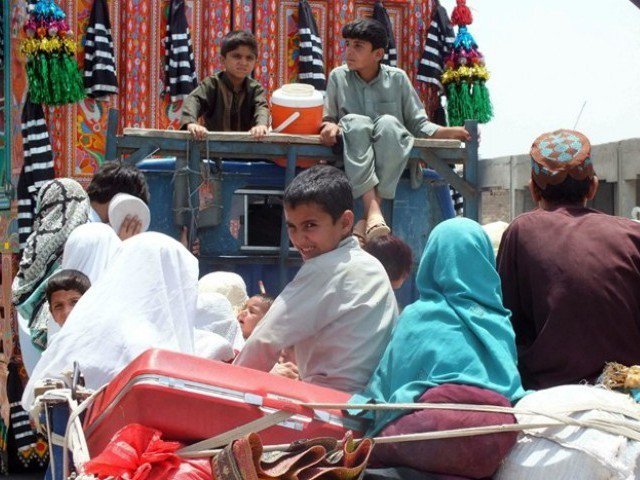 ---
PESHAWAR: Hundreds of families from Saidgi and Ghulam tehsil in North Waziristan have shifted to Bannu during the last phase of Operation Zarb-e-Azb in North Waziristan.

Malik Ghulam, a tribal elder from North Waziristan, told The Express Tribune over 250 families have come to Bannu from Saidgi.

"The authorities promised to repatriate them within 20 days of their arrival at camps in Bannu," he said. "However, it seems rather unlikely. We held a meeting with the relevant authorities three days ago and apprised them of [our] hardships."

According to Ghulam, they were forced to leave all belongings and livestock back home.

Speaking to The Express Tribune, Attaur Rahman, an official of FATA Disaster Management Authority (FDMA) said 345 families have arrived in Bannu from scattered areas in Ghulam Khan tehsil in North Waziristan.

Rahman said the verification process of these families is under way.

"Once the process is completed, they will be declared IDPs," he said. "They will be eligible for government packages."

The final phase of Operation Zarb-e-Azb began early April. Tribespeople from Saidgi and Ghulam Khan tehsil who have been displaced from North Waziristan have been left without home and hearth and faced a diverse menu of challenges.

Many tribespeople crossed the border and went to Afghanistan after the military operation commenced in June 2014. However, they later returned home following assurances from civil and security establishments.

These tribespeople were initially shifted to an IDP camp in Bakakhel. However, most of them left the camp for Bannu city and its adjoining areas such as Domail and Nauran Town. Many of them are now living in rented house while others have moved in with friends and relatives.

Published in The Express Tribune, April 8th,  2016.