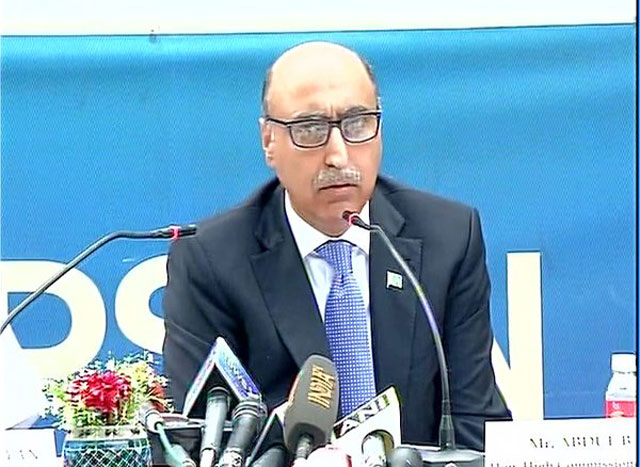 ---
Pakistani High Commissioner to New Delhi has said peace process between Pakistan and India is suspended at present, terming the arrest of Indian spy proof of the country's long-held stance regarding terrorism.

"As far as I know there is no meeting scheduled between foreign secretaries [of the two countries] yet," Abdul Basit said, while addressing an event at the Foreign Correspondents Club of South Asia in New Delhi.


OPENING STATEMENT OF HIGH COMMISSIONER ABDUL BASIT AT THE FOREIGN CORRESPONDENTS' CLUB OF SOUTH ASIA,NEW DELHI,TODAY pic.twitter.com/WpqVMY3lIT

— Pakistan High Commission India (@PakinIndia) April 7, 2016
Let's see if we are able to commence the dialogue process (Indo-Pak): Pakistan High Commissioner Abdul Basit pic.twitter.com/RwKj1v5lmt

— ANI (@ANI) April 7, 2016


India involved in state-sponsored terrorism in Pakistan, says IG FC

Basit said the recent arrest of Indian spy Kulbhushan Yadav irrefutably corroborated what Pakistan had been saying all along, ANI News reported.


"We all are aware of those who seek to create unrest in Pakistan and destabilise the country," the HC said adding, "They're bound to fail as the people of Pakistan are united to effectively counter anti-Pakistan subversive activities."


The recent arrest of Kulbhushan Yadav in Pakistan irrefutably corroborates what Pakistan has been saying all along: Abdul Basit

— ANI (@ANI) April 7, 2016


The high commissioner highlighted authorities in Pakistan had arrested scores of terror operatives with foreign linkages, terming it disturbing.

Pakistan summons Indian envoy over 'RAW officer' nabbed in Balochistan

Regarding consular access to Yadav, he said Indian request was under consideration, but could not say when it would be granted.

Basit reiterated the Jammu and Kashmir dispute was the root cause of mutual distrust and other bilateral issues.


It is the J&K dispute that is the root cause of mutual distrust (Indo-Pak) and other bilateral issues: Abdul Basit pic.twitter.com/ULlGHFExEp

— ANI (@ANI) April 7, 2016


"Therefore, a fair and just resolution is a must and attempts to put it on backburner from our perspective will be counterproductive," he said.

The diplomat argued there should not be any doubt that Pakistan wanted to have a normal and peaceful relationship with India.

'RAW officer' arrested in Balochistan

He, however, made it clear that Pakistan wanted these ties on the basis of sovereign equality and mutual interest, saying there was consensus on this in Pakistan.

Basit stressed the two sides needed to "engage uninterruptedly, comprehensively, and meaningfully."

Referring to the 19th SAARC Summit that will be held in Islamabad in November this year, Basit said it will help create more synergies and win-win situations.