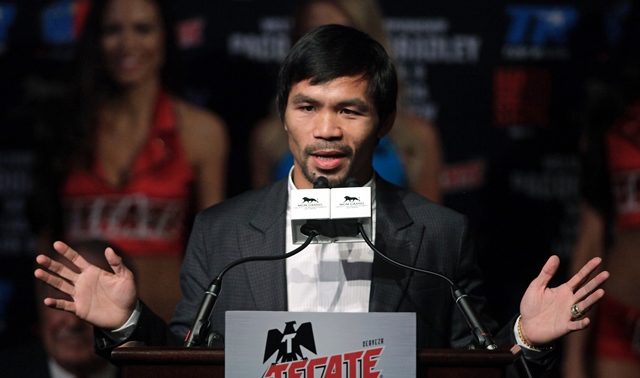 ---
LAS VEGAS, NEVADA: Twenty-one years after clambering through the ropes for his first professional fight, Manny Pacquiao will make the long walk to the ring for what could well be the final time on Saturday in Las Vegas.

It will complete one of the most vivid rags-to-riches journeys in a sport that is famous for them, an odyssey which has taken him from a $20 purse to a reported $20 million payday for this weekend's finale against Tim Bradley.

A lot has changed for Pacquiao since January 25 1995, when as a skinny 16-year-old he outpointed Edmund Enting Ignacio in a four-round bout before a few hundred spectators on the wild and rugged Philippines island of Mindoro.

Pacquiao traveled to that fight by ferry, buying his own ticket for the three-hour boat ride from Manila for a contest which earned him 1,000 pesos, approximately $21 dollars at today's rate of exchange.

"It was very small," Pacquiao recalled here on Wednesday as he prepared for his third and final meeting with Bradley.

"But it was my desire to box. At that time I boxed because I wanted to help my mother, and my family."

Boxing provided Pacquiao with an escape from crushing poverty.

Pacquiao leaves door open to retirement U-turn

"We had no money. I was the breadwinner. I helped send my brother to school, I worked at boxing," he said.

"I loved doing it because I was helping my family. When you have nothing you don't care how hard the work is."

Since that meager first purse, Pacquiao's fights have generated an estimated $500 million, swollen by his cut from last year's money-spinning "Fight of the Century" against Floyd Mayweather which ended in defeat.

Pacquiao will bank another bumper paycheck this weekend.

Even allowing for the fact that Saturday's bout has struggled to generate the crackle of anticipation that surrounded his iconic battles with the likes of Mayweather, Oscar de la Hoya and Ricky Hatton, Pacquiao remains big box office.

Bob Arum, the legendary 84-year-old promoter, pinpoints Pacquiao's narrative arc as the source of the Filipino's enduring appeal.

Philippine boxer and poll candidate Pacquiao says TV bout cover not a low blow

"He's just a great story," Arum said. "A rags to riches story. A kid from the streets of the Philippines, lived in a cardboard shack. Worked his way up, comes to the United States ... becomes one of the biggest fighters of our time.

"I was in boxing for a long time before Manny arrived. I remember all the Filipinos. Some of them were good. Some were OK. None of them were great. Manny is great."

Yet the final phase of Pacquiao's career has been overshadowed by an ugly controversy the devoutly religious fighter ignited in February when he asserted that homosexuals were "worse than animals."

Those comments, just months after same-sex marriage was legalized in the United States, triggered a wave of revulsion and have threatened to leave an indelible stain on Pacquiao's legacy.

Sponsors led by Nike swiftly cut their ties, and Pacquiao was reminded of the deep anger caused by his comments on Sunday when he was verbally abused by a man outside a restaurant in Los Angeles.

Even Arum could not hide his dismay at the controversy.

Philippine boxing great Pacquiao on political crusade

"There are people who hold sincere religious beliefs against same sex marriage and homosexuality," Arum said.

"The problem is that Manny didn't leave it there. He made analogies to try and justify his position, and those analogies got him in trouble because they're very hurtful. And they're wrong."

Pacquiao insists the controversy has not distracted him from the job in hand, and he remains focused on Bradley and his own burgeoning political career.

Pacquiao's determination to help the poor in his homeland has been a central theme of his pursuit of public office.

Elected to the country's congress in 2010, he is running for a seat in the country's Senate in polls next month.

"I'm taking this fight and then going back to the Philippines to focus on politics, to help the poor people," Pacquiao said.

Both Arum and Pacquiao's trainer Freddie Roach have expressed scepticism however that the fighter will stay retired.

"I still think he has a lot left in him," Roach said.

"There's some interesting fights out there."

Arum agreed.

"I think if he wins this fight well, he's going to find a way to continue," he said.

"If you've been doing something and doing something well since you were seven or eight years old it's a tough thing to give up."