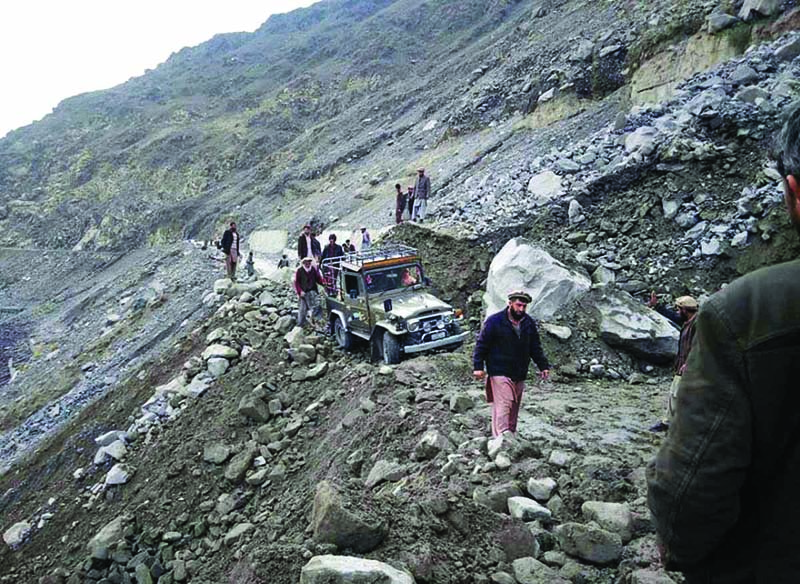 ---
GILGIT: The Gilgit-Baltistan (G-B) region has been cut off from the rest of the country for the past four days and may face a humanitarian crisis if efforts are not made on war footing to reopen its roads, particularly the Karakoram Highway (KKH), to resume vital supplies and rescue the stranded people.

Meanwhile, at least 14 more people have died and six sustained injuries due to rains which lasted for over 48 hours and damaged hydropower projects that supply electricity to Gilgit town and elsewhere.




Rescuers search for 23 in Kohistan landslide; flood toll at 92

Due to the recent spell of spring rains, the strategic KKH has been damaged at more than 50 places from Gojal to Besham, leaving hundreds of commuters stranded. The roads leading to Skardu, Astore and Ghizer are also blocked, resulting in shortage of food items and fuel.

According to army's Frontier Works Organisation's (FWO) Colonel Amjad Wali, a main bridge on the KKH has also got damaged and efforts are underway to make it fit for travel. He said some 200 metres of roads in Kohistan have been completely washed away by landslides.

Reports suggest that the stranded passengers in Kohistan, Diamer, Nagar and Hunza have not been able to get food as shops have also run out of supplies. Many passengers are crossing over huge boulders and mud on foot, risking their lives to reach their destinations.




"I am stuck in Hunza as roads are blocked," said Amin Beg, a resident of Gojal, while talking to The Express Tribune over phone. "There is no light and also no signs of immediate restoration of roads. Children and women are also among the stranded people," he added.

At least 50 foreigners are also among those stranded in the G-B owing to road blocks.

"The inhabitants of landlocked Gojal valley are now facing food shortage and other basic necessities," said Didar Ali, a resident of the area. "The situation is getting worse with every passing day but authorities and political administration are nowhere to be seen."

More rain expected: Karakoram Highway likely to reopen today

The situation is no different in Diamer valley. "We are waiting for government to come forward but so far there is a complete silence," said Mujeeb Ur Rehman, a local.

Meanwhile, the G-B government has kept media in the dark about the prevailing situation in the valley. However, on Wednesday it claimed that the rescue work had been started across the region as it announced that it would take around 10 to 15 day to reopen the KKH.

Addressing a press conference on Wednesday, the G-B Minister for Works Dr Muhammad Iqbal said the floods and landslides have damaged the power houses, causing suspension of power supply. However, he claimed that the G-B has a fuel stock for 10 days while grain was also available in the stock.

"Let me tell you the calamity is the worst and worst then the one that hit the G-B in 2010," said the minister, accepting that government had shortage of machinery to clear roads while bulldozers and other equipment were not available on rent in the region.

"The government has sent a request to army for helicopters so that patients and foreigners can be flown out," he added.

Published in The Express Tribune, April 7th,  2016.