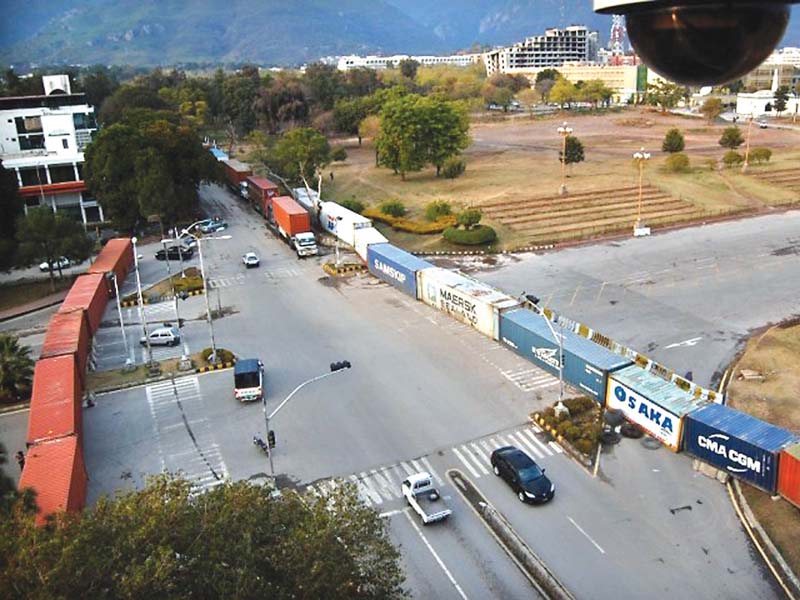 ---
ISLAMABAD:

We do not accept the judicial commission...D-Chowk springs to mind, said Pakistan Tehreek-e-Insaf (PTI) chief Imran Khan on Wednesday. Separately, the PTI announced that it would hold a rally on April 24 at D-Chowk to commemorate the party's 20th foundation day.

Operation to disperse D-Chowk protesters will be initiated tomorrow: Nisar

"It has been decided that PTI's rally, while will be addressed by its chairman and participated by activists from across country, will be held at D-Chowk," PTI leader Faisal Javed told

The Express Tribune

.


We have yet to get permission from the city administration, Javed added.

He said party chairman would announce a way forward for the party activists on the occasion. He said government's plan to dismantle that site was tantamount to curb the people's right to assemble the country constitution guarantees.

A senior official of the Islamabad Capital Territory Administration said a decision to grant or decline permission would be taken upon receipt of an application from the PTI. To a question, he said the administration could deny the request due to ongoing work at the site.

Protest-free zone

City authorities are busy attempting to convert the capital's famous parade venue-turned protest site — D-Chowk — into a fenced park.

Protest inside red zone turns into a sit-in

The whole area, which is currently open and accessible from all sides, will be secured with a metal fencing and a single entry gate, according to a preliminary plan, which has yet to be green lit by the authorities.

The Capital Development Authority (CDA) Engineering Wing has begun dismantling the brick seats along either sides of D-Chowk, which were occupied by attendees of the Pakistan Day parade before its venue was shifted to the Parade Ground.

By doing this, the areas on either side of D-Chowk would be transformed into steep slopes unsuitable for sitting or standing on during protests.

"The whole area will be secured with a boundary wall and an entry gate. Extensive horticulture work will be done inside the venue to turn it into a green park," said an official associated with the plan.

He said proposal to erect a memorial or monument of some sort in the middle of the proposed 'park' was also under consideration.

D-Chowk

D-Chowk is located at a point where one of the city's main arteries, Jinnah Avenue, merges with Constitution Avenue. It falls within the Red Zone which also includes important buildings such as Parliament, the Presidency, PM House, The Supreme Court, and a number of other federal government office buildings.

Imran demands immediate probe in Sharif family's alleged offshore wealth

The area was previously the regular site for the annual Pakistan Day parade, but they were moved due to security concerns in the early 2000s.

The Chowk got another 15-minutes of fame in 2014 after Imran Khan's Pakistan Tehreek-e-Insaf (PTI) and Tahirul Qadri's Pakistan Awami Tehreek (PAT) staged a four-month sit in against alleged rigging in the 2013 general elections by the ruling PML-N.

As a central area of the city in the proximity of many sensitive buildings, any large assemblies here can disturb routine life, given that that chowk can accommodate thousands of protesters.

Barely a week ago, another sit-in staged by right-wing political parties and religious groups in connection with the execution of former Punjab governor Salman Taseer's assassin.

Tensions caused by the language and mannerisms of the latest group of protesters forced the government to find a permanent solution which would end the practice of converting D-Chowk into a protest camp.

Interior Minister Chaudhry Nisar made an announcement on this note once the religious parties' protest had ended.

Published in The Express Tribune, April 7th,  2016.

 
COMMENTS (3)
Comments are moderated and generally will be posted if they are on-topic and not abusive.
For more information, please see our Comments FAQ