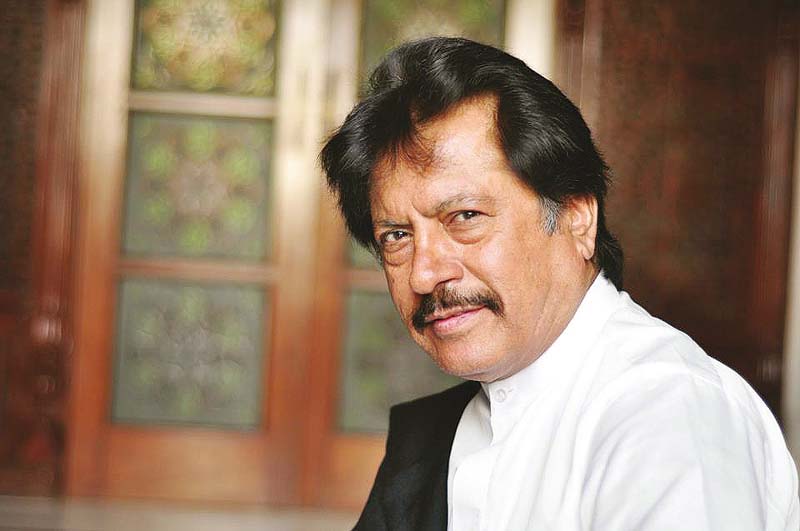 ---
LAHORE:



Apart from the loneliness of highways, the other constant companions of Pakistani truck drivers are the lilting tunes of none of other than folk icon Attaullah Khan Esakhelvi. His contemporaries came, experimented with the genre and went but Attaullah stood firm, never to compromise on his original product and methods. Years turned into decades and this Mianwali-born vocalist with his swashbuckler moustache, kameez shalwar and shawl on one shoulder became the poster boy for traditional Pakistani music.




The singer, who is soon to celebrate his golden jubilee in the industry, has no shame in admitting that he is and always was the common man's artist. "I am a singer of those who are in pain. Like a voice of the voiceless," he tells The Express Tribune in an exclusive conversation.

The artist never dies: Folk maestro's demise leaves vacuum in Pashto music industry




Attaullah takes pride in the fact that an entire generation grew up humming to his tunes. "It is an honour for me that truck drivers paint my pictures on their vehicles. Human suffering has been a constant theme in my work and this is why it is appreciated in far flung areas of the country."

Neither time nor any health concerns come in the way of the man who is lovingly called Lala. "I have been singing for over 50 years and will continue to do so till my last breath," he maintains.

The definition of a folk singer for the Pride of Performance recipient is a little different. "A folk artist is more than just a singer. He is a standard-bearer of culture and traditions and values," he says. Attaullah feels that this connection with history should also show in their music.

Like every other sensitive artist of the country, Attaullah too is perturbed by the industry's current state of affairs. "Our music is no more the same. Instead of helping us relax it is actually giving us tension," he chuckles, adding, "And the tragedy is that this is what sells on TV." The fact that quality work of yesteryears is also no more aired for public consumption is startling for him.

Bridge the gap: Best way to save heritage is to keep it alive in literature, music and art

An artist who doles out scores of studio albums every year, Attaullah hasn't exactly been releasing music for a while. "Things have changed. A number of recording companies shut down in the last decade and the trend of festivals is also dying thanks to the security situation," he sighs. "Although we do sing at private gatherings but I am not that kind of a performer. We are what we are because of these festivals."

On the other hand, he has, in the past, lent his voice to numerous film songs. As of late, he hasn't exactly been involved with the film industry. "I sure will sing in future if a good opportunity arises. I hope new-age Pakistani cinema soars to greater heights," he says.

Although he rarely makes TV appearances, Attaullah gave in to Rohail Hyatt's insistence and featured on Coke Studio's fourth season to belt out hits like Pyaar Naal and Ni Oothaan Waale. He believes the show is a great platform to acknowledge, recognise and promote local talent. "They had asked me to sing for them this year but I had to decline the offer because of prior commitments," he says, adding, "But I will surely sing for them in future!"

To date, he says, Attaullah has recorded over 50,000 songs. While he has reason to believe that he is "still young and energetic", Attaullah is already preparing the next generation to take over the mantle. "My son Sanwal Khan Esakhelvi is also pursuing a career in music." For artists like these, carrying on the legacy is a major concern; obviously no Patiala Gharana veteran, for instance, would want a death metal player in the family. For Attaullah, that is not a concern. "I will be happy if he follows my style but if he wants to sing light music and people like that, then he can sure go ahead. He has my blessings."

Published in The Express Tribune, April 7th,  2016.

Like Life & Style on Facebook, follow @ETLifeandStyle on Twitter for the latest in fashion, gossip and entertainment.

 
COMMENTS
Comments are moderated and generally will be posted if they are on-topic and not abusive.
For more information, please see our Comments FAQ