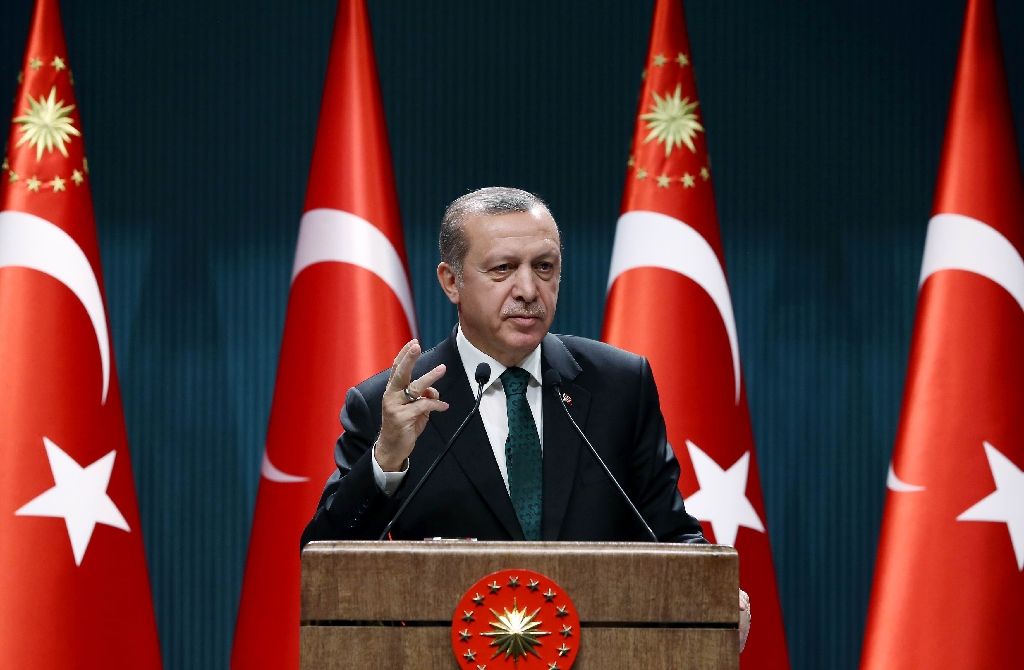 ---
ANKARA:
Turkish President Recep Tayyip Erdogan on Tuesday proposed stripping Turkish citizenship from supporters of Kurdish rebels waging a deadly insurgency against the security forces.
The comments by Erdogan marked the latest escalation in his drive to crack down on dissent against the government's relentless operation to wipe out the outlawed Kurdistan Workers Party (PKK).
Obama warns Erdogan's Turkey headed down troubling path
"To prevent them from doing harm we must take all measures, including stripping supporters of the terrorist organisation of their citizenship," Erdogan said in a speech to lawyers in Ankara.
"These people don't deserve to be our citizens. We are not obliged to carry anyone engaged in the betrayal of their state and their people."
But Prime Minister Ahmet Davutoglu said the government was not planning "for the moment" to strip PKK supporters of their nationality.
"This idea is not ready," Davutoglu told reporters during a visit to Finland.
The PKK has been blamed for a string of attacks in Turkey in recent weeks following the collapse last year of a truce in its decades-long fight for greater autonomy and rights for Kurds, which has left 40,000 dead.
In March, Erdogan came under fire for calling for the definition of terrorism to be expanded to include journalists, activists and others who "exploit their positions, pens and titles and put them at terrorists' disposal."
But this was the first time he has proposed that supporters of the PKK be stripped of their nationality.
"Supporters (of terror) who pose as academics, spies who identify themselves as journalists, an activist disguised as a politician ... are no different from the terrorists who throw bombs," Erdogan said Tuesday.
Obama unlikely to meet Erdogan during US visit
"But like a wolf in sheep's clothing, they serve the same purpose as the members of the terror organisation. As a nation we need to be careful. No one must commit treachery against the state and the nation behind our backs."
Erdogan has also pushed for lawmakers from a pro-Kurdish party to be stripped of their parliamentary immunity so they can be prosecuted for "terrorist propaganda".
- ' A pit of treachery' -
The PKK launched a bloody insurgency against the Turkish government in 1984 seeking independence, but in the nineties watered down its demands to seek instead more autonomy with cultural and language rights.
Jailed PKK founder Abdullah Ocalan called a truce in March 2013, but tensions over the Syrian conflict kickstarted the violence last year.
Turkish forces launched an all-out offensive to eradicate the rebels from urban centres with a blistering military campaign in the southeast.
Erdogan said last week that 355 members of the security forces had been killed in fighting as well as over 5,000 PKK members -- although this could not be independently verified.
Turkey army ridicules talk of 'anti-Erdogan coup'
The conflict has also struck the heart of the country, with two attacks that killed dozens in the capital Ankara claimed by Kurdish rebels, at a time when citizens are already on high alert over bombings by the Islamic State group.
It has also strained diplomatic ties between Turkey and the US, which supports Kurdish militia in Syria that Ankara see as a branch of the PKK.
As part of a wider crackdown on free speech, Erdogan has particularly homed in on those seen as supportive of the PKK.
Prosecutors in January launched a major investigation against more than 1,200 academics who signed a petition denouncing the military operations against Kurdish rebels in the southeast that enraged Erdogan.
Days later, he personally warned the academics they would "pay a price" after falling into a "pit of treachery".
In mid-March three prominent Istanbul academics were arrested on charges of publishing "terrorist propaganda".
A fourth, Mercal Camci, is facing up to seven-and-a-half years in jail after being arrested on his return to Turkey from abroad on March 31.
Accused of increasing authoritarianism, Erdogan's government has also targeted journalists, with the president himself brushing off all criticism and declaring he doesn't need "lessons in democracy" from the West.
Two journalists from the leading opposition daily Cumhuriyet are currently facing life in prison after being charged with revealing state secrets over a story that accused the government of seeking to illicitly deliver arms to rebels in Syria.