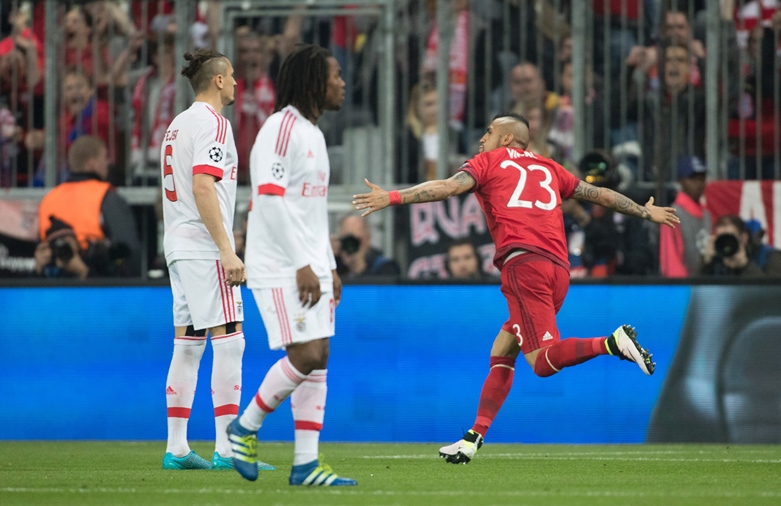 ---
MUNICH, GERMANY: Arturo Vidal gave Bayern Munich a slender 1-0 lead for their Champions League quarter-final return leg at Benfica next week, after hitting the winner just 109 seconds into Tuesday's first leg.

Bayern produced an off-key display at Munich's Allianz Arena and their fifth straight appearance in the Champions League semi-finals is far from assured.

"Benfica's back four stood up well and we missed out on that second goal," Bayern's goalkeeper Manuel Neuer told Sky.

"But despite all that, we can be very happy with the result, because we kept them to nil.

"That was the most important thing."

Mueller's bicycle kick rescues Bayern against Darmstadt

Rui Vitoria's Benfica can take plenty of heart before the second leg at the Estadio da Luz on Wednesday April 13, after subjecting Bayern to a frustrating second half in Munich.

However, the Portuguese league leaders will be without top-scorer Jonas after the 32-year-old picked up a second-half booking, his third of the tournament.

In the build-up, Bayern coach Pep Guardiola had described Benfica as having "perhaps the best back four" in Europe, after leaking just 19 goals in the Portuguese league this season.

But it took less then two minutes for Bayern to break the Benfica rearguard.

Bayern go 11 clear as Lewandowski nets twice

Franck Ribery crossed from the left and Juan Bernat, untroubled by the Benfica defenders, found Vidal in space to nod comfortably past Ederson.

Benfica failed to cope with Vidal's late runs from midfield as he again got on the end of a cross with half-time approaching, but the ball bounced harmlessly onto the roof of the net.

Having scored Bayern's winner with a spectacular bicycle kick last Saturday against Eintracht Frankfurt, Ribery tried the trick again, but without the same success.

Vidal took a painful blow for the Bayern team just before the break when he blocked a shot from Benfica captain Nicolas Gaitan with his nether regions.

But as the game wore on, Benfica's back four began to back up Guardiola's compliment by frustrating Bayern's attack, especially Robert Lewandowski and Thomas Mueller.

Vitoria's men will be without their Brazilian hot-shot Jonas, who has scored 30 goals in the Portuguese league, for the return leg after a 58th-minute foul on Vidal.

In a bid to shut Benfica's attacking game down, Bayern coach Pep Guardiola switched Joshua Kimmich for Spain international Javi Martinez with an hour gone.

Bayern started to live dangerously.

There was pandemonium in the Bavarians' penalty area on 65 minutes when only desperate defending denied Jonas, who got off three shots.

With 20 minutes to go, both coaches threw on game changers as Guardiola introduced fleet-footed France winger Kingsley Coman, then Mario Goetze for the final five.

Vitoria brought on Mexico forward Raul Jimenez for Kostas Mitroglou.

Bayern have only themselves to blame for not doubling their tally in the dying stages.

Lewandowski got in behind the defence and drew Ederson, but his pass to an unmarked Philipp Lahm was too long, just a minute from the whistle.