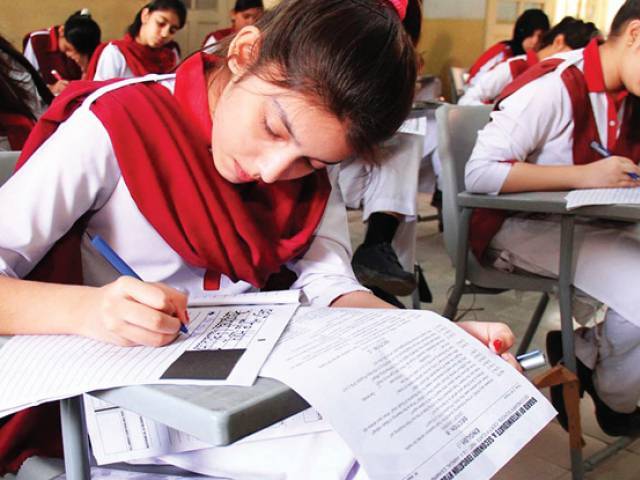 ---
KARACHI: It has been a week since the annual exams for 2016 of the Board of Secondary Education, Karachi (BSEK), started and a total of 54 cases of cheating have been registered by the board's vigilance teams.

"We have arrested the facilitators in all the cases and handed them over to the police," BSEK chairperson Anwar Ahmed Zai told The Express Tribune. He added that officials found involved in cheating were also removed from their posts.

"To stop the decades-old cheating mafia is not possible in one day but the arrangements we have made will stop it in the long run," assured Zai.

BSEK chairperson also visited the schools along with commissioner Asif Hyder Shah and Karachi Additional IG Mushtaq Mahar. "Copy culture should be eradicated and a transparent system should be implemented in examination centres," said the commissioner during his visit to different examination centres.

He also appreciated the efforts of vigilance teams, formed in collaboration with the police and BSEK officials, and said the government has worked hard to ensure examinations take place on time and without any clashes.

District vigilance teams along with invigilators are maintaining the system and are not letting cheating occur in the examination process, which is a success, said Shah. "All the arrangements from forming teams to providing security are made just to provide ease to students during their exams and to avoid any clash at centres," he explained.

Meanwhile, Zai said to hold the annual examinations on time with complete arrangements is only possible with the help of government-led teams at the centres, which are handling the law and order situation.

Zai added that the district administration's step to close down the photocopy shops outside the centres during exam hours helped bring down the cheating rate.

Despite the arrangements and security checks, a few teachers complained that they are receiving threatening messages from people who are being barred from facilitating students in cheating, said Zai.

The headmaster of Government Boy's Secondary School, Orangi Town, complained that he is receiving life threats over stopping the facilitators from helping students in cheating at exam centres. Commenting on these complaints, Zai said that the police are arresting such people and taking strict action.

Five teachers arrested

According to Zai and Malir deputy commissioner Syed Mohammad Ali Shah, five teachers were arrested from two centres during inspection of different exam centres of Malir district on Tuesday. They were facilitating students in cheating. Two of the teachers have been arrested from Government Boys and Girls School, Labour Square, and the remaining three were held from Shumaila Public Gulshan-e-Askari School.

An FIR has also been registered against the culprits.

Meanwhile, Mohammad Ali Shah has promised to intensify the operation in his district against cheating. On his instructions, a campaign is running successfully across the Matric examination centres of Malir district against copy culture and cheating, he said.

Published in The Express Tribune, April 6th, 2016.