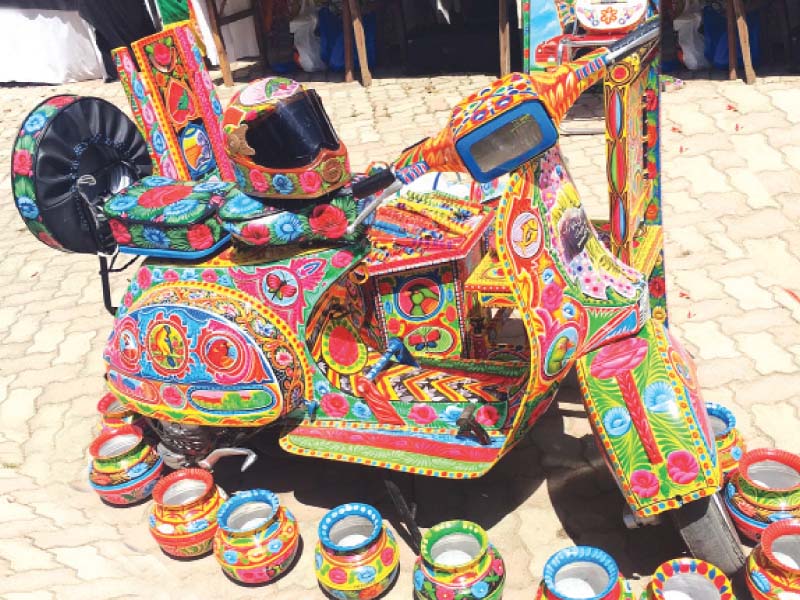 ---
ISLAMABAD: A wise man once said every artist is first an amateur and it couldn't be truer. While art has a lot to do with acquiring the right training, some artists are just naturally gifted.

Without proper formal training, these artists can give art school graduates a run for their money. They may not know the intricacies or fancy theories of art but the skill in their hands creates stunning pieces.




Habibur Rehman, 78, who is from Rawalpindi, is one such artist. Though he lacks formal training, he has been painting truck art inspired pieces since 1955.

In the past few years, truck art in Pakistan had become popular to the extent of becoming irrelevant, but what is refreshing about Rehman's work is his ability to improvise despite his age. His striking designs and the innovative things he chooses to paint could give any young artist a tough time. He has used his talent on items such as guitars, helmets and even a scooter.

It is for this reason that he was one of the 600 artists selected to showcase his talent out at the Lok Mela, being held at Lok Virsa.

Speaking to The Express Tribune, Rehman said he began painting in 1955.

"It has been 61 years since I have been painting. Now that I look back, it seems like a lifetime ago. I never intended to paint. I had no idea if I could develop the skill or had the talent, but the need to earn a living makes one do strange things, sometimes the most unexpected things," he said.

Back in the day, he began painting to make some cash, but painting soon became his passion and so, he kept improvising.

"A few years ago truck art became really popular and knowing it became the need of the hour for artists like me which is why I started experimenting in it. However, I knew that such trends are usually a fad and fads often fade with time. So, in order to remain relevant I had to ensure I paint on products that are different and interesting," he said.

When asked if his age hinders his work now, he said when you are truly passionate about your work, nothing can come between you and work, not even age.




"It does get difficult to make intricate patterns and designs due to weak eyesight but my passion makes me carry on," he explained.

It is quite inspiring to see a nearly eighty-year old be so innovative, and which is probably why his work remains at the top.

Habibur Rehman can usually be found painting a scooter or a guitar in his Rawalpindi workshop. However, these days he is live painting for visitors at the Lok Mela, which will continue till April 10.

Published in The Express Tribune, April 6th,  2016.