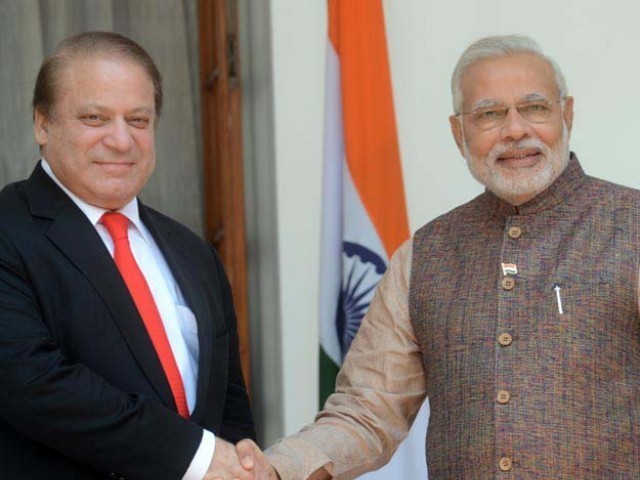 ---
Relations with India took another beating when our security forces, close to the Pakistan-Iran border in Balochistan, arrested a serving commander of the Indian Navy, for spying and promoting insurgency. As though this was not enough to poison a highly fragile relationship, stories of several other Indian spooks being apprehended were emerging in the media. While all this is happening, Pakistan's joint investigation team was in Pathankot to examine the alleged involvement of Jaish-e-Mohammad (JeM) in the major terrorist attack on the airbase. All this is indicative of how two nuclear neighbours are getting dangerously entangled in a situation where events may get out of control.

Pathankot attack: JIT winds up probe in India




On the surface, Prime Minister Modi tries to give an impression of improving relations with Islamabad. In sharp contrast, his government is literary pursuing policies that aim at deliberately undermining and destabilising the state. The double speak, combined with a well-orchestrated campaign of defaming Pakistan at international forums and the world's capitals, have become the norm. Modi's speech at the Nuclear Security Summit was the most recent demonstration of it. In parallel, a diplomatic offensive has been undertaken to woo Pakistan's closest allies like Saudi Arabia and the UAE, to reduce its strategic leverage.

India's diplomatic and political offensive combined with efforts to destabilise Pakistan internally, further weakens an insecure Nawaz Sharif. It emboldens militant organisations such as Lashkar-e-Taiba and JeM to pursue their own anti-Indian agenda. What is worse is that it allows them to expand their tentacles within Pakistan, to spread militancy and provides justification for defence to receive a major share of the budget, placing greater strain on national resources.

Policymakers in India should realise the dangers inherent in destabilising Pakistan. It will not be long before the fires they are trying to light, engulf the entire region. However careful it may be, it will not be possible for India to insulate itself. Afghanistan is already in a mess, with remote prospects of stability in sight. Daesh, al Qaeda and the Tehreek-e-Taliban Pakistan are all alive and kicking in close proximity. India is not a homogenous entity having different religions and several castes. The rise of Hindu nationalism under the BJP government, has weakened the polity. In this environment, the policy of destabilising a nuclear neighbour could backfire. Coupled with this insane hostility, India is pursuing its aggressive Cold Start doctrine and Pakistan countering it with the development of short-range tactical weapons.

Tehran probing whether Yadav crossed border illegally

No doubt, it is difficult to comprehend Prime Minister Nawaz Sharif's silence on India's deep provocation. For it left several questions unanswered. Was it a message to the establishment that he was upset that it took the lead in such a sensitive and serious matter, thereby embarrassing him? Or is he privy to facts that the common folk are not supposed to know.

Notwithstanding this opaqueness, Nawaz Sharif has to be given credit for making sincere attempts at improving relations with India. It takes a lot of courage to seek peaceful solution to problems and normalise relations, when the odds are so great within the country and the adversary so hostile. His political opponents doubt his motivations and claim that personal business interests are dictating policy. More likely, Nawaz Sharif's business instincts see great potential in advancing economic goals through close cooperation. He also does not see it at cross purposes with our close economic and strategic partnership with China, which has acquired a fresh momentum with the implementation of the CPEC. After all, trade between India and China has exceeded $80 billion and is projected to touch a $100 billion.

Criticism of the government is part of the democratic process and the accountability process has to be strengthened through checks and balances. But undermining politicians as a class and ridiculing democracy as a part of an orchestrated campaign only gladdens our enemies and allows it to exploit the national weaknesses. Painting the entire lot of politicians as corrupt and inefficient is not only unfair but is counterproductive. Our other state institutions are not above board, it's just that we are more discreet about them!

We also cannot overlook the reality that Pakistan's national power is diluted due to the civil-military divide and provides India with an opportunity to exploit this weakness. We would be in denial if the mantra of the civil and military being on the same page continues, while the reality is different. The politicians will have to perform and strengthen parliament and governance to remove the growing imbalance, otherwise it will keep tilting in favour of the military. When interest is lacking and state institutions are not utilised for policymaking, then bureaucracy and the military fill the vacuum. The National Security Committee, the principal decision-making body on national security, last met in October 2014, whereas it is supposed to meet at least once a month. This lax attitude gives a free rein to the establishment to keep expanding its influence. Experience has shown that the military, however professional and outstanding, cannot be a substitute for civilian rule. Ideally, state institutions should compete for better performance, but not strengthen at the expense of the other. All this shows how closely the external and internal strengths and weaknesses are co-related and feed on one another.

Modi's Saudi visit part of push to 'de-hyphenate' India from Pakistan

Periods of prolonged military rule followed by inept civilian governments have given rise to a culture of ridiculing democracy. Not realising that we have tried all other options and failed to achieve any better results. It is the lack of democratic practices and culture and poor governance that is harming us externally and driving wedges domestically. For democracy to take root in our society, a very determined effort will have to be made by all institutions. Regrettably, it is the opposite that is happening.

Pakistan will be in a much stronger position to deal with internal and external threats as we improve governance and consolidate democracy. We will gain international respect and recognition only through this route. A country of 200 million people does not have to be pushed around by small and big powers.

Published in The Express Tribune, April 6th,  2016.

Like Opinion & Editorial on Facebook, follow @ETOpEd on Twitter to receive all updates on all our daily pieces.