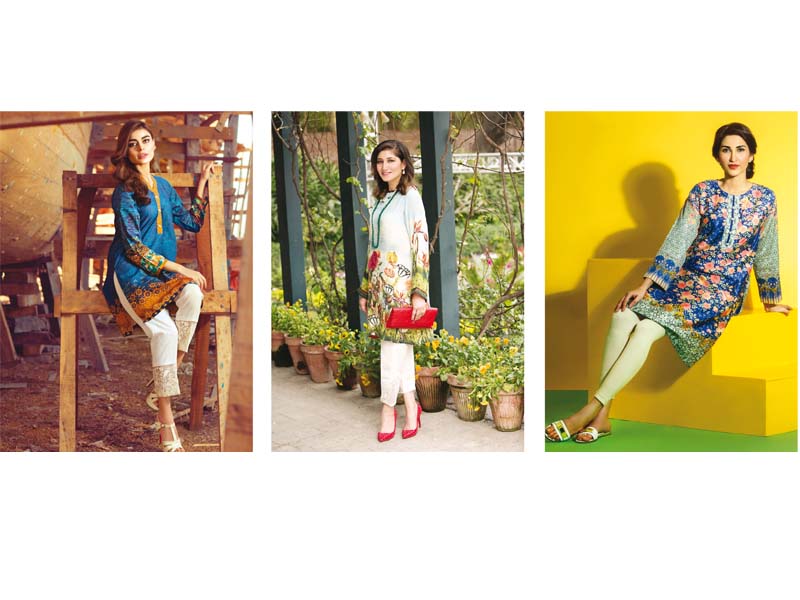 ---
KARACHI:



Arguably, ready-to-wear apparel has changed the landscape of local fashion over the past few years. Long gone are the days when one had to run after tailors and lace-vendors, trying to have an outfit completed on time. The process requires much less effort now.




But while prêt wear has undoubtedly revolutionised how Pakistanis dress themselves, there are many who still prefer sticking to their regular, tailor-made clothes. Has market for ready-to-wear really grown big enough to overthrow the average darzi or are we living through just another trend that is likely to die out someday?

"Pakistan is a unique country when it comes to retail due to its geopolitical position. Simply put, we do not have a transient population and that creates an unfriendly environment," explained renowned retailer Zahir Rahimtoola, who runs Labels. "By 'transient population,' I refer to people travelling for business or leisure. This is why places like Dubai, Singapore and Colombo have such vibrant retail environments. Pakistan is different as we hardly had any designer offering seasonal collections which is important for buyers."

Curtain call: PSFW 2016 bows out

Rahimtoola spoke of how the very concept of buying, as it is done universally –,does not exist in Pakistan. "Most fashion retail businesses are stockists, not buyers. Buying can happen only when there is a transient population which supports sales, thereby encouraging designers to come up with consistent collection and ultimately, creating a buyers' marketplace." Nonetheless, he did acknowledge how brands such as Gul Ahmed, Al Karam, Nishat, Sapphire and Khadi have introduced prêt wear to the middle and lower-middle classes.

Gul Ahmed director Ziad Bashir pinpointed how major clothing brands had progressed in the right direction. "The business has come a long way and customers are definitely spoiled for choice. Prices have also tumbled down due to intense competition," he shared. "Large format chains and upscale boutiques are all competing for customers' disposable income. Our fashion shows have become more sophisticated, comparable to international fashion events."

Does that mean the ready-to-wear business has gone ahead of its time? Bashir agreed but just to a certain extent. "The market might be much more sophisticated but it's still smaller than the unstitched fabric market," said Bashir. Al Karam CEO Retail, Abid Umer agreed as well, attributing the growing popularity of prêt wear to changes in the local lifestyles. "As our lifestyle swifts, convenience, fashion conscience, lower cost and accessibility help the process," said Umer. "The market has grown tremendously over the last two decades, particularly the last five years. But it has just caught up. There is still a long way to get to where menswear already is."

Nomi Ansari's bag of tricks

A newer brand Sapphire has benefitted immensely from the ongoing prêt wear frenzy. "Over the last two decades, several things have happened," said Sapphire Director Nabeel Abdullah. "Firstly, brands offering good quality stitched clothes have risen, given customers more options. Secondly, the prices of merchandise have become reasonable and thirdly, people have started valuing convenience a lot more," he explained. "With the advent of digital printing, there is no barrier to entry for retailers anymore. Before, one would have to meet the minimum runs of the conventional printing process which would require multiple stores instead of the one or two stores they can open now."




While what the experts say seems good for the here and now, where can we expect the market to go once it has hit saturation point. "E-commerce is the biggest game changer right now through which, Pakistani fashion is available from Lala Musa to London," said Rahimtoola. "Due to the change in dynamics, the physical retail store concept is becoming a dinosaur in our major cities, largely supporting startups and second or third tier designers." Bashir echoed Rahimtoola's sentiments, citing online payment platforms like PayPal and Payoneer as paving the way. "I think online retail will surely take a large chunk of the market as these platforms get State Bank approval and international customers can purchase local products without any hassles," he shared. According to Bashir, prêt wear is likely to equal, if not exceed, the unstitched fabric market but the mushrooming of brands will simmer down.

Of course, even such exponential growth, as predicted by Bashir and Rahimtoola, comes with its fair share of troubles. There are still gaps that must be filled in order for the market to reach its peak. "We lack some essentials of large international sales," claimed Rahimtoola. "There are no unified size specifics. Also, quality control overlooks shrinkage, colour fastness and light tolerances, barring a few major brands like Khaadi, Gul Ahmed and Al Karam. The standardised process leaves a lot to desire."

Published in The Express Tribune, April 6th,  2016.

Like Life & Style on Facebook, follow @ETLifeandStyle on Twitter for the latest in fashion, gossip and entertainment.
COMMENTS
Comments are moderated and generally will be posted if they are on-topic and not abusive.
For more information, please see our Comments FAQ