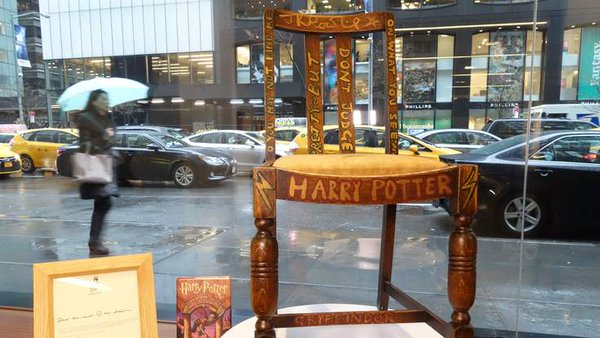 ---
NEW YORK: A chair J K Rowling used to write the first two volumes of her best-selling Harry Potter series is set to sell at auction in New York on Wednesday.

Pre-auction bidding via the Internet had reached $65,000 on Monday for the modest 1930s-era oak chair on which Rowling, 50, sat while writing "Harry Potter and the Philosopher's Stone," published in Britain in 1997, and "Harry Potter and the Chamber of Secrets" (1998), the first two of seven volumes.

Rowling received the chair -- one of a mismatched set of four -- free when she was a young single mother living in subsidized housing in the Scottish city of Edinburgh.

Harry Potter and the Cursed Child to be published in book form


Fancy winning the chair @jk_rowling used while writing the first two HP books? Well ... https://t.co/rWDIXhZMZl pic.twitter.com/NOIyqomGpr

— Books Are My Bag (@booksaremybag) April 5, 2016


"This was the comfiest one, which is why it ended up stationed permanently in front of my typewriter, supporting me while I typed," Rowling wrote in a letter accompanying the chair, the auction house conducting the sale, Heritage Auctions, wrote on its website.

"My nostalgic side is quite sad to see it go, but my back isn't," she added.

Rowling donated the chair in 2002 to an auction benefitting the National Society for the Prevention of Cruelty to Children after adorning it with words in pink, gold and green paint.

"You may not find me pretty but don't judge on what you see," she wrote, along with "I wrote Harry Potter while sitting on this chair" and her signature, the auction house said.

'Harry Potter' star Alan Rickman dies at 69

The chair sold at auction again in 2009 for $29,117, Heritage Auctions said.

"A small piece of history connected to the mythology of the Wizarding World and one of the most beloved characters in children's literature," the auction house's description said.

The Harry Potter series has been translated into 67 languages   and sold more than 450 million copies.

Also adapted into a series of box office record-breaking films, "Harry Potter" made Rowling the first female novelist billionaire.
COMMENTS
Comments are moderated and generally will be posted if they are on-topic and not abusive.
For more information, please see our Comments FAQ