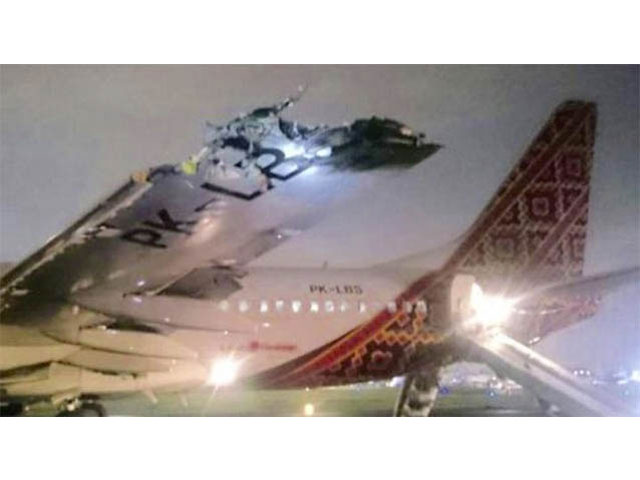 ---
JAKARTA: Passengers feared for their lives as their plane set fire and filled the cabin with the stench of gasoline following a collision with another aircraft on an Indonesian runway, an eyewitness said Tuesday.

A Batik Air plane with 49 passengers and seven crew on board was taking off from the Jakarta airport when it clipped a TransNusa aircraft being towed across the runway late Monday.

The collision sheared off a section of the wing and started a fire, sparking panic inside the cabin.

12 dead in Indonesian military chopper crash

"When I saw the fire I told myself 'I'm going to die in this plane'," passenger Faisal Ibrahim told AFP.

He said fellow travellers shouted "fire!" when they saw the wing ablaze and demanded the crew open the emergency door, fearing an imminent explosion.

"The fire spread so quickly, and there was a smell of gasoline inside."

The plane stopped abruptly after the pilot aborted the takeoff, and the crew opened the emergency doors, allowing passengers to safely evacuate. No one was injured in the incident.

Emergency crews on site at Halim Perdanakusuma airport -- primarily a military and government terminal that services some commercial domestic routes -- extinguished the blaze but scorch marks were visible on the wing after the collision.

Four killed in plane crash at western Japan airport

The tail of the ATR craft operated by TransNusa, another domestic carrier, was also mangled.




The transport ministry said it launched an investigation into the cause of the accident, and concedes safety guidelines were not followed.

"If everyone followed the rules, this wouldn't have happened," transport ministry spokesperson J.A. Barata told AFP.

Indonesia's air travel industry is booming but it has a dismal air safety record and reputation for chaotic regulation.

In 2013 a Lion Air jet with a rookie pilot at the controls undershot the runway and crashed into the sea in Bali, splitting the plane in two.

Indonesian military plane crashes, two pilots killed: reports

Lion Air Group, which runs Indonesia's largest low-cost carrier Lion Air, is also the parent company of Batik Air.

In December the following year an AirAsia plane crash between Indonesia's second-largest city Surabaya and Singapore killed all 162 people on board.