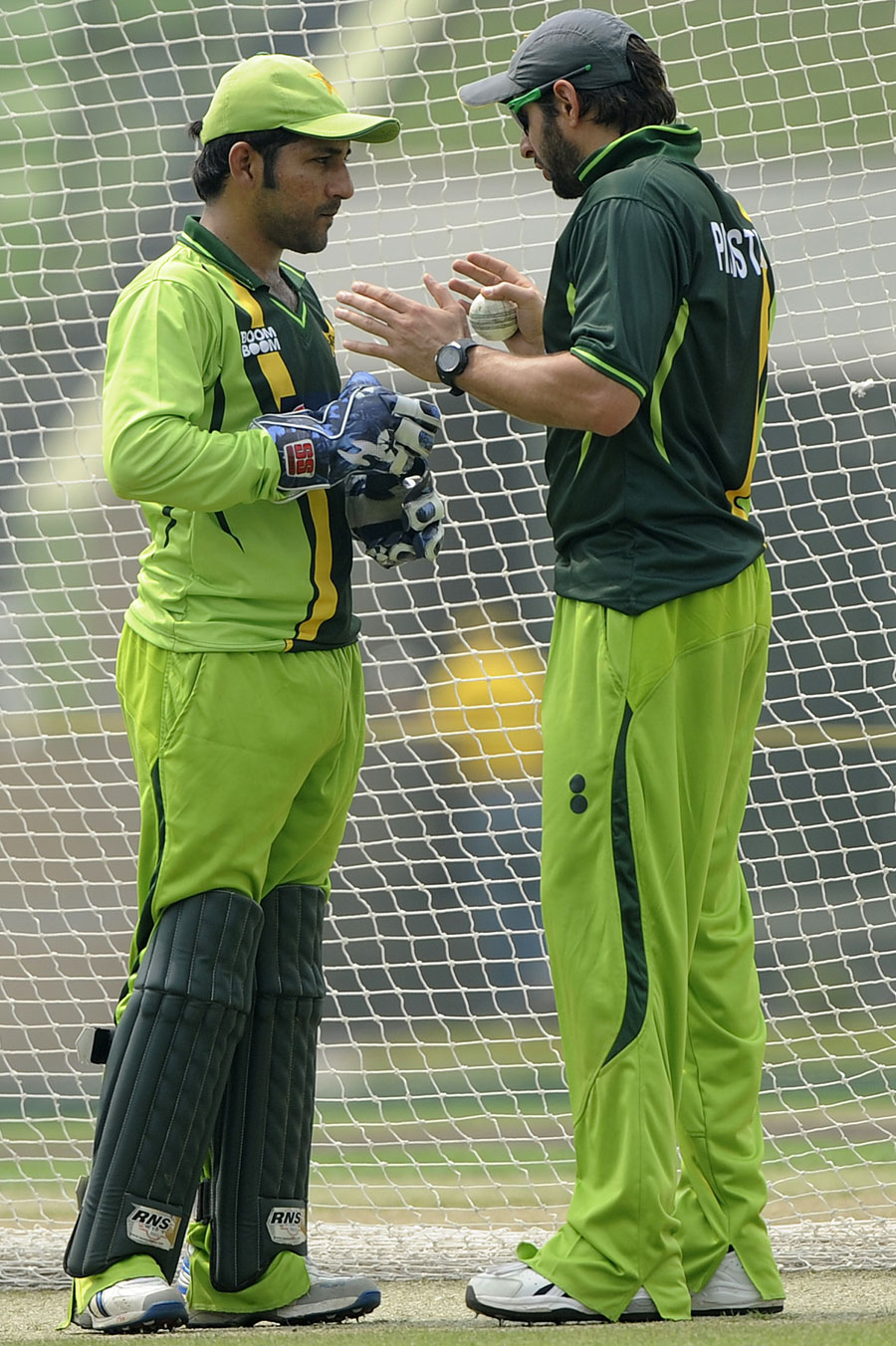 ---
Former Pakistan T20I captain Shahid Afridi, who resigned from his position, took to Twitter on Tuesday to welcome the Pakistan Cricket Board's (PCB) move of appointing wicketkeeper-batsman Sarfraz Ahmed as the new captain.

Afridi, in his tweet, highlighted the traits that Sarfraz possesses which will help him in leading the Pakistan T20I side.

PCB appoints Sarfraz Ahmed new T20I captain


Good decision to see @SarfarazA_54 leading PAK T-20 he is energetic, passionate and a fighter!

— Shahid Afridi (@SAfridiOfficial) April 5, 2016


Meanwhile, other cricketers, including Pakistan ODI captain Azhar, Ali felicitated the 28-year-old on being sworn in as the new captain.


Congratulations @SarfarazA_54 for being appointed as Pakistan t20 captain.👏👏👏 best of luck brother 👍👍👍

— Azhar Ali (@AzharAli_) April 5, 2016
Congratulations to @SarfarazA_54 for becoming the captain of t20 cricket, very happy for u brother #BleedGreen #NewEra #pakistanzindabad

— Imad Wasim (@simadwasim) April 5, 2016
Shahid Afridi steps down from T20 captaincy
Congrats @SarfarazA_54 on ur appointment as T20 captain. Good wishes with u n prayers that u lead Pakistan to lots of success inn Shaa Allah

— Umar Gul (@mdk_gul) April 5, 2016


Fans were also happy to see Sarfraz at the helm of the T20I team.


Wow. Sarfraz Ahmed is a Hafiz also. Quite outstanding. Good for Pakistan cricket to lead..

— Shahnawaz (@iamshaah5) April 5, 2016
Every sensible cricket fan is happy for Sarfraz Ahmed as Pakistan's T20 captain. Those who're not, they don't know about cricket.

— Mian Omer 🇵🇰 (@Iam_Mian) April 5, 2016


https://twitter.com/Humza411/status/717312053078142976


Sarfraz Ahmed is Pakistan's latest T20 capt......
Seventh to do so after Inzamam, Younis Khan, Shoaib Malik, Misbah, Afridi & Hafeez

— Amir Sohail (@ItsAmirSohail) April 5, 2016
Sarfraz Ahmed appointed new Pakistan T20 captain: Damage control efforts by PCB. Where was PCB sleeping before WORLD CUP?

— Ijaz Sheikh (@Ijaz51990) April 5, 2016
PCB to implement changes to improve Pakistan cricket
let's hope Sarfraz Ahmed is the better choice for our cricket

— Asma Siddiqui (@aquasid14) April 5, 2016


https://twitter.com/Humza411/status/717315714626031616

https://twitter.com/uumair77/status/717315530026315777


Shahid_Afridi Jesa Super Star Nahi Dekha,Un Se Bohut Kuch Seekha Aur Ayenda Bhi Un Se Mashwara Longa. #Sarfraz_Ahmed #Cricket #PCB

— Mohammad Ayaz (@AyZi333) April 5, 2016


https://twitter.com/Humza411/status/717313258097680384

https://twitter.com/mahnoor36/status/717311159599292417