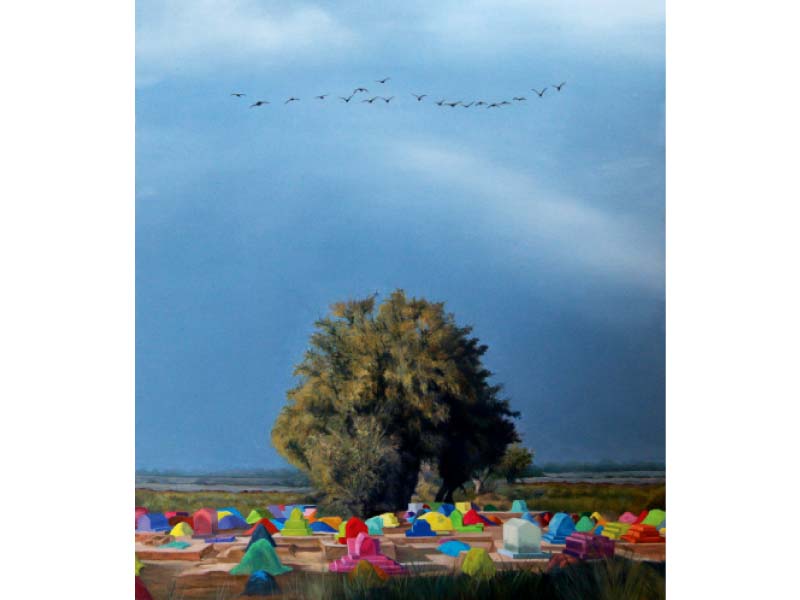 ---
KARACHI: If anything binds the work at the two-person show 'Museum of Wasted Loves' at Full Circle Gallery together, it is the concept of belonging. The idea of attachment and inseparability has been explored by artists Farrukh Adnan and Mahbub Jokhio, albeit in very different ways.

Jokhio has touched upon inseparability through images of graveyards, making use of the parallel themes of life and death, all the while paying a tribute to the dead.

Adnan has, however, fondly depicted his childhood as a living being. "It is the study of my hometown, Tulamba [in Punjab]," says Adnan, talking about his work. "I have a great attachment to my hometown. It's something you don't forget," he said.

Adnan's black and white scribble-like drawing of mountains and a general landscape is his depiction of his hometown. "[The artwork] represents my childhood memories and has a deep historical significance as well," he explains, talking about the minute details that are present in his work.




The historical aspect of Adnan's work also extends to archaeological findings and the characteristic pottery-making of his region. "My drawings are based upon layers," said the artist. When asked why he primarily used black and white in his work, his answer was simple. "I like monotone colours," he says. "They have a beauty of their own," he adds, explaining that his work is versatile in terms of its combination of traditional and modern styles.

Jokhio's work, on the other hand, revolves around the themes of death and the cycle of life and is more expressive in terms of colour. His three digitally printed portraits show how life and death are two sides of the same coin. Be it artwork of a woman sitting amidst all her belongings with a graveyard in the background, a woman sitting amidst graves with her sewing machine or even multicoloured graves, the work talks about the transition from one life to another with full preparation.

"The concern is to try and help in constructing a place which is a place of joy, entertainment and paying homage to the long gone by being there frequently," says Jokhio in his statement. Another interesting piece of his work is a charcoal drawing of a boat on wrinkled paper. One cannot help but wonder if a paper boat had been constructed out of that single sheet, photographed and then drawn on the same paper it was built from. Here too, the whole process is a metaphorical representation of the cycle of life: it starts and ends at the same point.

The exhibition will continue till April 22.

Published in The Express Tribune, April 5th, 2016.
COMMENTS
Comments are moderated and generally will be posted if they are on-topic and not abusive.
For more information, please see our Comments FAQ