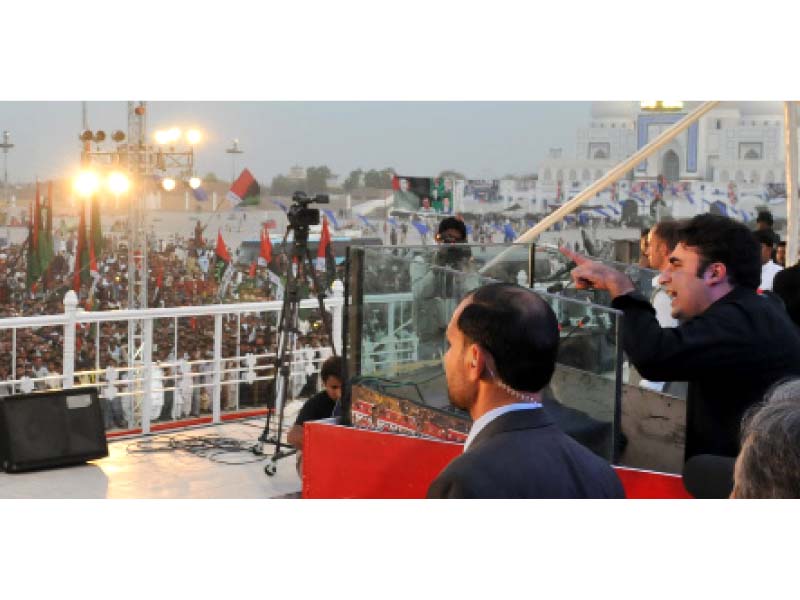 ---
SUKKUR: The charisma of Pakistan Peoples Party's (PPP) founder Zulfikar Ali Bhutto continues to draw crowds as thousands of jiyalas thronged his mausoleum in Garhi Khuda Bux to observe his 37th death anniversary on Monday.

Party workers from across the country converged on Bhutto's hometown to pay homage to their leader and listen to the speech of his grandson and PPP chairperson, Bilawal Bhutto Zardari. Party workers started arriving in the town from Sunday evening, with caravans continuing to descend on Garhi Khuda Bux to participate in Bhutto's 37th death anniversary.

Party leaders, including Bilawal, had already been camped at Naudero House. In the morning, Quran Khwani was held at the mausoleum for the PPP founder, which was attended by party workers and local leaders, after which fateha was offered.

Heightened security

Strict security measures were put in place for the grand congregation in light of the recent attack at Gulshan-e-Iqbal Park, Lahore, with 7,000 policemen, 300 Rangers personnel, commandos and lady police constables deployed at the venue.

Several walkthrough gates were installed to screen visitors before being allowed to enter the venue.

Free for all

Mismanagement was observed during the distribution of food, when people were seen pushing others to get as many packets of food as they could get their hands on. Locals complained that it was in fact the policemen who managed to get the lion's share of food as they had the 'upper hand'. Journalists covering the event complained of 'rough behaviour' by the police and jiyalas who did not allow them easy access to cover the event.

A 'real leader'

Earlier in the day, PPP (Shaheed Bhutto) took out a rally which, besides others, was addressed by the party's chairperson and Bhutto's daughter-in-law Ghinwa Bhutto. In her address, Ghinwa strongly criticised the present PPP leadership and blamed them of serving vested interests instead of doing something for the welfare of the people. Paying glowing tributes to Bhutto, she said, he was a real peoples' leader who gave the public political vision and awareness. "Today, PPP leaders have forgotten the ideology of Bhutto, which is why the party is losing ground," she told supporters. The most badly affected sections of society are the educated youth and peasants, who have been ignored badly, she added.

Published in The Express Tribune, April 5th, 2016.