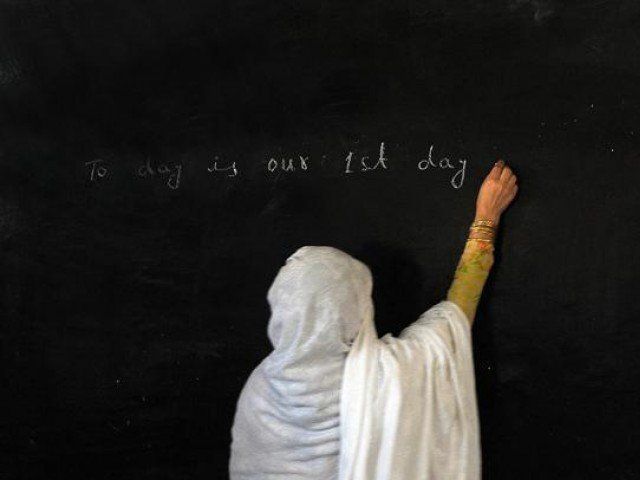 ---
PESHAWAR: The All Primary Teachers Association (APTA) Khyber-Pakhtunkhwa (K-P) chapter has threatened to go on strike if the education department fails to constitute district promotion committees (DPC) by April 9.

At least 129 vacant head teacher posts in Peshawar need to be filled by the said date or else APTA members threatened to protest and go on strike.

Talking to The Express Tribune, APTA Khyber-Pakhtunkhwa President Malik Khalid Khan said for the last 18 months, 129 head teacher posts remained vacant in various schools. He said several requests had been lodged with officials, who had no time to form a committee for the promotion of teachers, which would help fill these posts. He added K-P Elementary and Secondary Education (E&SE) Director Rafiq Khattak also directed them to form DPCs for these vacant posts to no avail.

Stuck in a rut

Malik Khalid said hundreds of primary school teachers had been appointed at basic pay scale (BPS) 12. He added due to the delaying tactics of district education officers, the teachers retired without being promoted.

"Since 2013, DPCs had been constituted four times for the promotion of women, but male officers had been completely ignored." The APTA K-P head said primary school headmasters are responsible for all activities at their schools. They also keep check on all teachers. "The education department remains silent over the glaring vacancies in the headmaster posts."

Emergency no more

Malik Khalid criticised the provincial government for declaring an educational emergency and claiming the provision of quality education while teachers were deprived of their basic rights.

He said Peshawar district education officers had earlier been given April 4 as the final date to form DPCs, but they had failed to do so.

When contacted, the E&SE additional secretary rejected APTA's argument, saying there was not a single vacant head teacher's post in Peshawar.

The additional secretary added he would take prompt action if any posts were found vacant. He said the current government had appointed 25,000 teachers across the province and promoted experienced teachers to senior posts.

He suggested teachers to focus on their duties and not waste precious time.

Published in The Express Tribune, April 5th, 2016.
COMMENTS
Comments are moderated and generally will be posted if they are on-topic and not abusive.
For more information, please see our Comments FAQ