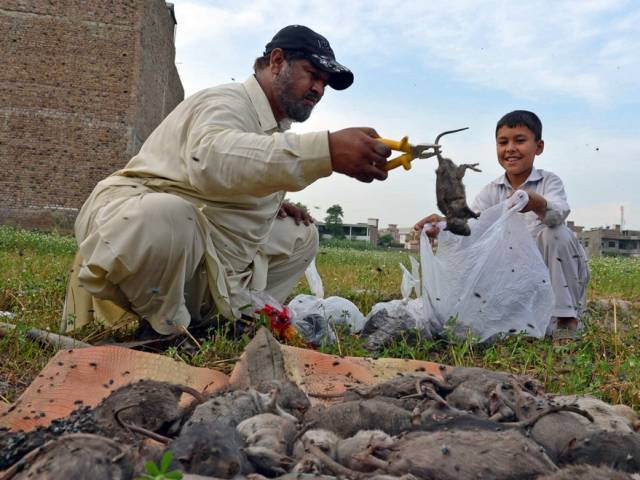 ---
ISLAMABAD: A well organised campaign by the district government of Peshawar to exterminate 'killer rodents' in the city by a specifically formed task force early this week has motivated a well-known epidemiologist in Islamabad.

Appreciating the drive, Dr Muhammad Najeeb Durrani has urged for action plans by all municipal institutions and health care departments to eradicate vicious rodents from their cities and hospitals.

"It is high time for all civic bodies to chalk out a comprehensive and long term strategy with the consultation of medical experts for handling the increasing number of rats," the epidemiologist said while speaking to The Express Tribune.

Peshawar announces rat-killing bounty after infestation

"Otherwise the people of other cities, like Peshawar would also have to face infestation in their houses," he added.

The concerned people should know that such harmful rodents are a constant threat to human lives, warned Dr Durrani, who is a senior health official in the Capital Administration of Islamabad. Particularly the administrations of all major hospitals should form task forces to destroy the killer rats."

Such huge rats also exist in bakeries, warehouses, restaurants, railway stations and sewerage pipe lines. Recalling the death of a new born baby who was bitten by rats at the Holy Family Hospital, Rawalpindi in 2012, the epidemiologist said such incidents should be taken as an eye opener for all relevant officials.

Dr Durrani has recommended the municipal administrations and health care institutions to allocate funds in their annual budgets to have a permanent set up for handling the problem.

Further, dead rats can cause various diseases, therefore they should not be thrown in the streets or public places instead they should be destroyed with scientific techniques.

8-month-old child dies after rat bites in Peshawar

The epidemiologist advised citizens to learn a lesson from the alarming situation in Peshawar where the killer rats have made life miserable. People, particularly hotel employees, should not throw their left-over food in the open as that practice, which has become a normal habit, helps rodents to grow day-by-day.

"The presence of rodents, at such public places particularly in bakeries is highly risky for consumers as its urine is toxic," he said adding that rats' urine causes many fatal viral diseases. It can easily contaminate food items in bakeries and other shops containing edible stuff.

According to Dr Durrani, rat bites and scratches can result in disease and rat-bite fever. Rat urine is responsible for the spread of leptospirosis, which can result in liver and kidney damage. It can also be contracted through handling or inhalation of scat. Complications include renal and liver failure, as well as cardiovascular problem.
COMMENTS (1)
Comments are moderated and generally will be posted if they are on-topic and not abusive.
For more information, please see our Comments FAQ