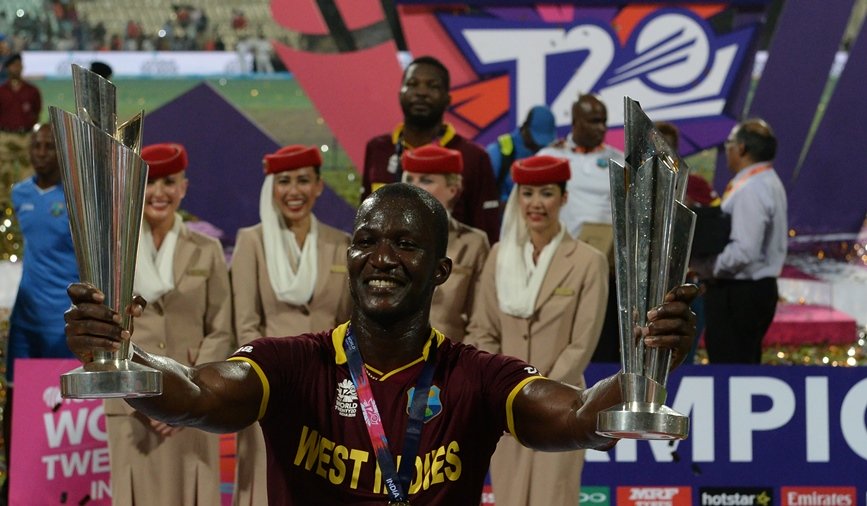 ---
KOLKATA: The bitter divisions in Caribbean cricket were laid bare Sunday as the West Indies board publicly reprimanded captain Darren Sammy just hours after his team's stunning victory in the World T20 final over England.

It should have been a day of unalloyed joy for the West Indies, with the women's team winning their Twenty20 final against Australia on the same Eden Gardens ground where the men later downed England by four wickets in a last-over thriller.

But in a post-match interview, Sammy gave vent to months -- possibly years -- of frustration with the West Indies Cricket Board (WICB).

'Cruel' on Stokes, says proud Morgan

In a reference to the lengthy and bitter pay dispute that had put their World Twenty20 participation in doubt, the all-rounder said his team felt "disrespected by our board".

"We had a new manager in Rawle Lewis, who has never managed a team before. We had no uniforms, no printing," said Sammy.

"The trouble he went through to just get us in this uniform. I got to give credit to the entire team here."

Sammy also had another swipe at the board as he thanked Grenada Prime Minister Keith Mitchell for a good luck message received hours before the final.

Emotional Sammy slams Windies board after World T20 title win

"I really want to thank him. He sent a very inspiring message for the team this morning and I'm yet to hear from our own cricket board. "That's very disappointing," added the 32-year-old.

Several hours later, in a statement curiously headlined "WICB President has high praises for World Twenty20 Organisers," from the board's Antigua headquarters, the sting came lower down.

"The President would like to however apologise for what could be deemed inappropriate, comments made by the West Indies' male captain, Darren Sammy in a post-match interview and would like to apologize on behalf of the WICB, to the millions of fans who witnessed (sic).

"The President has pledged to enquire the reason and will have the matter addressed."

WICB president Whycliffe 'Dave' Cameron had already appeared to take offence at Sammy's remarks by tweeting: "When is the last time a critic paid one of your bills? Always remember that when you start to give them your energy."

Last year, Cameron had to apologise after retweeting a comment from a supporter that West Indies opening batsman Chris Gayle should be given a "retirement package" after a run of low scores.

For many years the relative weakness of Caribbean economies and the often cash-strapped condition of the WICB have led to a series of pay disputes.

Recently, the situation has been exacerbated by the rise of lucrative domestic Twenty20 tournaments such as the Indian Premier League, where West Indies players can earn significantly more from appearing in franchise cricket than they can from the international game.

Recognising this, the WICB statement, said it wanted to meet with players after the end of this year's IPL in a bid to seek "common ground", with officials adding they would seek help from the International Cricket Council.

"We are fully aware of the financial rewards on offer in the lucrative international T20 leagues, but we believe deeply in the importance of cricket to the people of the region and of West Indies cricket's place in world cricket. It is therefore a priority to have all of our players competing and available for selection."
COMMENTS (2)
Comments are moderated and generally will be posted if they are on-topic and not abusive.
For more information, please see our Comments FAQ