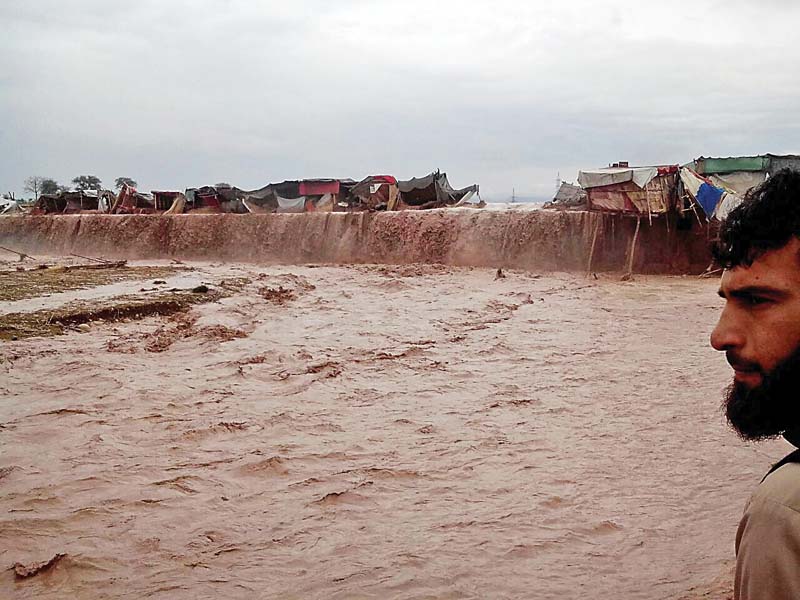 ---
PESHAWAR:



Weather anomalies are becoming more complicated, severe and perilous, but the procedures in place to deal with them remain the same.




Nearly a hundred people have lost their lives in a month's time due to the adverse climate conditions.

At least 45 people died on Sunday as rain battered several parts of the province. Eleven districts in Hazara and Malakand remain high-risk zones and there is little in terms of relief.

Mini-cyclone to El Nino

Human casualties in Khyber-Pakhtunkhwa keep increasing every year with isolated instances of weather anomalies. Unfortunately, it is the same areas which disaster strikes repeatedly.

In the 24 hours preceding this report, 45 people had died in addition to the other 56 who perished in weather-related incidents in March 2016.




In the same month in 2015, 44 people died in what was called a "mini-cyclone" and termed a potential tornado by the World Meteorological Organization (WMO).

Worryingly, monsoon season has not arrived yet. "Things are becoming more complicated," says Provincial Disaster Management Authority (PDMA) Director General Amir Afaq. He points out there are an increasing number of expectations from the authority when such calamities hit.

The meteorological department falls under the federal government and while there is a plan to install a radar system in Cherat, the project has still not been completed, the DG adds. Afaq says there are areas adjoining Peshawar where "there are no flood or weather system warnings". And that is just Peshawar.

Where things fall apart

Infrastructure damage is another major worry in a province that finds itself battling with the Centre to come out of a financial crunch.

Chitral, the largest district of K-P in terms of area, has not been included in the monsoon cycle, explains the DG. "It now has rainfall like other high-risk zones with lose soil that shifts," he warns.

Documents available with The Express Tribune show Chitral alone requires $77.167 million to recover from the 2015 floods.

The recovery plan itself is divided into 24 months, but harsh weather has interrupted the process. An example of this is abandoning a rescue effort to search for missing schoolchildren buried under an avalanche due to the inclement weather.

The Pakistan Climate Public Expenditure and Institutional Review (CPEIR) shows K-P has increased its total climate-related expenditure by 88% over the four years from 2010 to 2014.

In terms of rupees, spending has jumped from Rs13 billion to Rs24.4 billion which is greater than the increase in total revenues.

Climate-related expenditures represent between 10% and 14% of the K-P development budget, and 5.3% and 7.3% of the total provincial budget. However, it is still not enough.

Climatologists and policy formation experts tell The Express Tribune the key to countering effects of climate change lies in sensitisation.

There are a number of surveys that are carried out by consultants, but they are mostly project-driven.

While heavy amounts are paid by donors, the lack of understanding among the bureaucracy and public means "most suggestions do not see the light of day," points out a senior official of the Climate Change Policy Commission who chooses to remain anonymous.

The K-P government's Monsoon Contingency Plan is due by May 31 and its Climate Change Policy is to follow by the middle of 2016. While there has been one weather advisory after another, the requirements for pre-disaster management are rarely fulfilled, adds another official.

Published in The Express Tribune, April 4th,  2016.
COMMENTS
Comments are moderated and generally will be posted if they are on-topic and not abusive.
For more information, please see our Comments FAQ