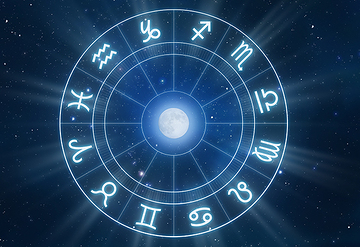 ---
Aries | March 20 – April 18


Planning ahead may be a virtue. But now, you're urged to examine what isn't working or even might go. Focus on decluttering your diary and future commitments, and perhaps abandoning once-prized ideas. It won't be easy, but clears the way for the life-changing developments triggered by Thursday's Aries New Moon.

Taurus | April 19 – May 19




The Sun, your ruler Venus and this week's New Moon all accent the most strategic portion of your chart. Thus, despite others' suggestions you tackle certain tricky matters head on, you'd regret speaking or acting in haste. Instead, wait and watch. What you learn will shape your thinking and decisions.

Gemini | May 20 – June 19




Nothing's more uplifting than ideas that are as exciting as they are promising. This is exactly what you've been discussing over the past week or so. Still, any commitments should wait. The actual foundation on which plans are based will shift, and shift again. Knowing that, ensure all arrangements are tentative.

Cancer | June 20 – July 21




Having put considerable time and effort into making recent plans or decisions, you'd rather stick with them. Then as the next few days' events unfold, you'll realise that while the actual plans won't work, what you learnt will come in handy when rethinking arrangements, for the now and for the future.

Leo | July 22 – August 21




The difficulties triggered by the clash between your ruler the Sun and Pluto may seem straightforward. Once you tackle them, you'll realise just how complicated they are. Still, delve into these matters in depth. Time-consuming as this may be, the resulting insights will prove profitable, now and in the future.

Virgo | August 22 – September 21




Judging by your ruler Mercury's move into the most expansive portion of your chart, you'll want to consider breaking away from certain all too familiar arrangements. And since this is just the beginning of a lengthy cycle that's about discovering new options, for now, it's all about exploration. Decisions can, and should, wait.

Libra | September 22 – October 21




If you're still reflecting on both the events and the insights triggered by late March's powerful Libra eclipsed Full Moon, it's no surprise. However, time is passing and things are changing, enough you'll soon need to make some decisions. Happily, with so much in transition, these can be easily rethought.

Scorpio | October 22 – November 20




Watching arrangements you've struggled to organise come undone is no fun. Still, you've had a strong feeling these wouldn't survive. Let them go. Ironically, this gives you time and space to reflect on various options. Within a short while you'll spot a different, and considerable less stressful, way to proceed.

Sagittarius | November 21 – December 20




You've been juggling numerous practical matters, some relatively straightforward, but as many of unanticipated complexity. Dealing with these is taking far longer than you had imagined. While you've been persistent, you'll also benefit enormously from the fresh insights being triggered now, in the run up to the New Moon, on Thursday.

Capricorn | December 21 – January 19




On occasion, events force you to recognise not everybody takes agreements as seriously as you do. Judging by the current planetary setup, in fact, you're urged to review both longstanding plans and those made recently. In several cases you'll discover others' circumstances have changed but they've neglected to inform you.

Aquarius | January 20 – February 18




The encounter between the planet of ideas and expression, Mercury, and your ruler Uranus, a few days ago, will have triggered interesting discussions and raised pivotal questions. While this has led to several important changes, a few remain unsettled. Take it slowly. Some vital facts have yet to surface.

Pisces | February 19 – March 19




While brushing off recent clashes was both tactful and wise, it's left the issue in question unresolved. Tempting as it is to ignore these further, they'll only fester. First, review your own views and priorities. Then choose a quiet moment, and ask others to do the same with you. That should restore harmony.

Published in The Express Tribune, April 4th,  2016.
COMMENTS
Comments are moderated and generally will be posted if they are on-topic and not abusive.
For more information, please see our Comments FAQ