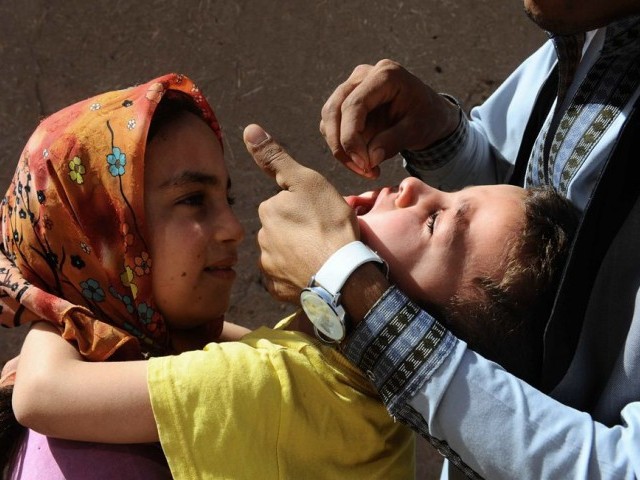 ---
PESHAWAR: At least 16,000 children across the country remain out of the reach of polio workers and have yet to be vaccinated. The number has reduced drastically from 0.36 million.

Health experts said there were certain areas that were not accessed until 2014. A majority of these regions belonged to the Federally Administered Tribal Areas, especially in North Waziristan and Khyber agencies. As a result, 16,000 children were exposed to poliovirus.

"In around 50% of the cases reported in 2014, children were not administered polio drops even once and there are still areas where parents are refusing to inoculate their children," said UN official Dr Zubair Mufti.

Mufti, while speaking during the 24th Biennial Central Convention at Peshawar Medical College, revealed there were a series of problems with programme management.

"Dedicated bodies were not included in the campaign against the crippling virus," he said. "The objective can only be achieved once the issue is taken on a street, mohallah, union council and grass-root level."

The UN official added around 20,000 cases were reported in 1994 and the number was reduced to 28 in 2005.

However, 90% of the cases from K-P and Fata were reported in areas where campaigns could not be held. In some cases, the campaigns, if conducted, were ineffective.

Pakistan Islamic Medical Association (PIMA) former president Dr Tanveer Zubairi said measles was eradicated from the globe in 1997 and that too after it claimed some Rs50 million lives. He added polio did not exist in the rest of the world, but lingered on in the region. Of the overall nine cases in 2016, two are from Afghanistan and seven from Pakistan.

He said the international community spent around Rs250 million by carrying out campaigns and taking samples.

According to Zubairi, PIMA put all its efforts to change perceptions about polio drops and raised its voice against the targeting of health workers. The objective was to build trust.

Access allowed

"Some areas were inaccessible, but after Operation Zarb-e-Azb, most of these regions are reachable. We have been engaging Islamic scholars to clear misconceptions about the drops," Zubairi said.

He added the Federation of Islamic Medical Association (FIMA), Organisation of Islami Countries, WHO, UNICEF, religious scholars and Jamia Al-Azhar (Egypt) will continue their efforts.

Dr Musa Nooruddin, a Malaysian national who participated in the programme, pointed out the cases of smallpox in Muslim-majority countries such as Bangladesh and Somalia.

"You protect people around you when you vaccinate your kids," Nooruddin said. He stated a huge amount of money was spent on protecting children against diseases and some US$426 million could be saved between 2011 and 2020. He added around six million deaths could also be prevented through suitable preventive measures.

Minister for Health Shahram Khan Tarakai also spoke on the occasion, saying the role of health experts and religious scholars was vital to eliminate the virus.

"If a country like Nigeria could be declared polio-free; why not Pakistan?" he asked.

"Elected people [of the local government] should be involved as they hail from the same area and can easily convince those parents who refuse polio workers." He hoped with consistent and untiring efforts, the virus would be eradicated from the region.

Governor Iqbal Zafar Jhagra also spoke on the occasion and said the virus' existence in Pakistan and Afghanistan was a matter of grave concern.

The governor said the security situation aided the spread of the virus in the region. He said a nation that could become a nuclear power was capable of eliminating this crippling disease.

Jhagra added polio was an important matter that needed to be addressed in the country in general and the province in particular. Health experts from across the country attended the programme at Peshawar Medical College.

Published in The Express Tribune, April 3rd, 2016.
COMMENTS
Comments are moderated and generally will be posted if they are on-topic and not abusive.
For more information, please see our Comments FAQ