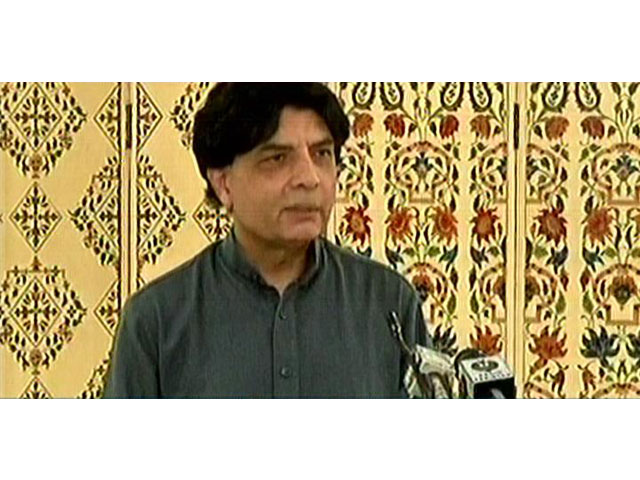 ---
Interior Minister Chaudhry Nisar Ali Khan said on Saturday Iran is not involved in any anti-state activities in Pakistan.

"Iran has always supported us in tough times and is not involved in anti-Pakistan activities," he said while speaking at a press conference in Islamabad.

He went on to denounce media reports that "poked fun" at Iran and its supreme leader and said, "This failed to reflect that Pakistan and Iran are, in fact, friendly nations."

The interior minister also added that some segments of the country were attempting to blame the issue of the Indian spy on Iran, which, he said, was not right.

Iranian President Hassan Rouhani arrived in Islamabad on March 25 to hold talks with Pakistani leadership on improving relations and strengthening economic ties after sanctions were lifted from the Islamic republic by world powers. During the meeting, the matter of the arrested Indian spy was also discussed.

Punjab CM, security czar and army chief discuss Punjab operation

"The issue of detained Indian Spy Kulbhushan Yadav is not linked with Iran. It has to do with India I urge people not to link the matter of held Indian spy with our relations with Iran," he said.

Meanwhile, dispelling rumors of a 'secretive' meeting with Punjab Chief Minister Shahbaz Sharif and army chief General Raheel Sharif, Nisar said the meeting was organized in an open manner and was routine.

"I think before commenting on it negatively, the media should have asked the interior ministry about it," he said.

Protest aftermath: Nisar orders crackdown against offenders

Responding to criticism he has received over former president Pervez Musharaf's departure from the country, the interior minister said the Pakistan Peoples Party (PPP) remained silent on the issue for the five years their government was in power and did not dare put his name in the Exit Control List (ECL).

"Our government rejected his plea to leave the country three times and put his name in the ECL as per the orders by Supreme Court," he said.

Meanwhile, speaking about the recent sit-in protests in the Red Zone area of the capital city, the interior minister said that the government could not force the protestors out aggressively as it could have meant many fatalities.

"The people had gathered in the name of respect for Prophet Muhammad (pbuh), but were misled and misguided by a few. The government had to act carefully," Nisar said.

The security czar said that the government had given the protesters an ultimatum to vacate the red-zone area when two of the ministers suggested that we should further hold negotiations in order to avoid violence.
COMMENTS (10)
Comments are moderated and generally will be posted if they are on-topic and not abusive.
For more information, please see our Comments FAQ