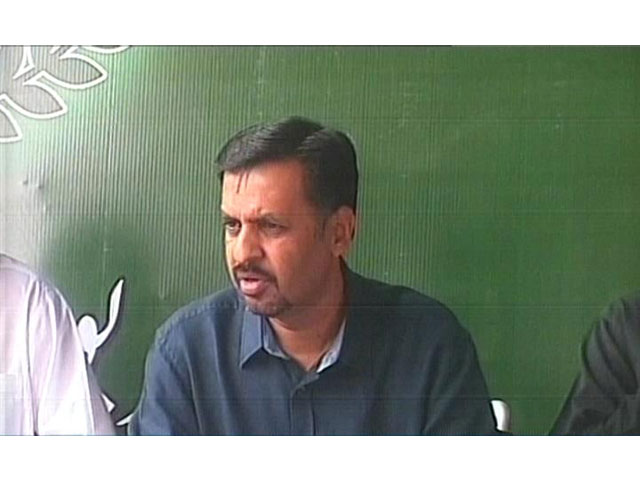 ---
A day after Pak Sarzameen Party (PSP)'s caravan received a hostile reception in Mirpurkhas, party leader Mustafa Kamal lashed out at Muttahida Qaumi Movement (MQM) chief over his alleged involvement in the attack which injured at least 10.

"If we had not challenged this 'Pharaoh,' we would not have been blessed by the Almighty [to speak the truth]," the former Karachi mayor said in a veiled reference to the MQM supremo while addressing a presser in Hyderabad on Friday.

Mustafa Kamal's caravan attacked in Mirpurkhas

"He [Altaf Hussain] is not more than a clown," Kamal said as he urged media not to give the MQM chief much importance. "He is a coward who hurls abuses one day and asks for forgiveness the next day."

Kamal reiterated his claim that his party had remained successful in attracting the masses and garnering their support "which is why we are being attacked."

"We are not afraid of death, we will welcome death the day it is destined for us. We have recognised Allah as the one and only God and did not give any human that status," Kamal added.

Mustafa Kamal names new political movement 'Pak Sarzameen Party'

Meanwhile, the former senator lauded the courage and determination of the people of Mirpurkhas, saying they valiantly countered the attack.

On Thursday, Kamal's motorcade was attacked in over half a dozen locations in Mirpurkhas district. At least 10 persons, including two reporters, were injured after locals pelted the PSP with stones and eggs. Eight to ten vehicles, including the one carrying Kamal and Anis Qaimkhani, were damaged.

Although the rally was escorted by a considerable police contingent led by SSP Usman Ghani Siddiqui, the security still proved insufficient to fully protect the PSP motorcade from attacks. Ratanabad saline drain, Heerabad, Ghareebabad, New Town, Mohajir Colony and other areas remained in the grips of pro and anti-Kamal rallies and protests, the latter reportedly staged by MQM supporters.

Anees Ahmed advocate joins Mustafa Kamal

Protesters hurled abuses as well as shoes, stones, eggs and bricks. According to some reports, the stones and bricks were even thrown from rooftops along the roads where the PSP rally passed.

MQM's reaction

Reacting to the presser, MQM's senior deputy convener Farooq Sattar said [Mustafa Kamal] group was being led by some elements of establishment to restrain everyone from doing politics.

"The [group] arrived on March 3 to induce so much provocation in the society so that one may not be able to do [genuine] politics," he said while addressing a news conference in Karachi.

Sattar termed Kamal's remarks against MQM supremo "Inappropriate, provocative and unethical."

"We demand the institutions of this country working under the Constitution take notice of this [situation]," he said, adding "There cannot be two sets of rules and regulations and PEMRA should differentiate between politics and provocation."

"Altaf Hussain or other MQM leaders never used derogatory words or resorted to personality-bashing [in retaliation of the tirade]."

"We do not want to engage in a tit-for-tat politics and continue to respond to allegations while in fact we possess all documentary proof [against those doing so]."

He added, "This group have a history of misappropriation, china-cutting, loot and plunder, saying they nevertheless accepted an individual's choice to make political choices and launch an organisation.
COMMENTS (2)
Comments are moderated and generally will be posted if they are on-topic and not abusive.
For more information, please see our Comments FAQ