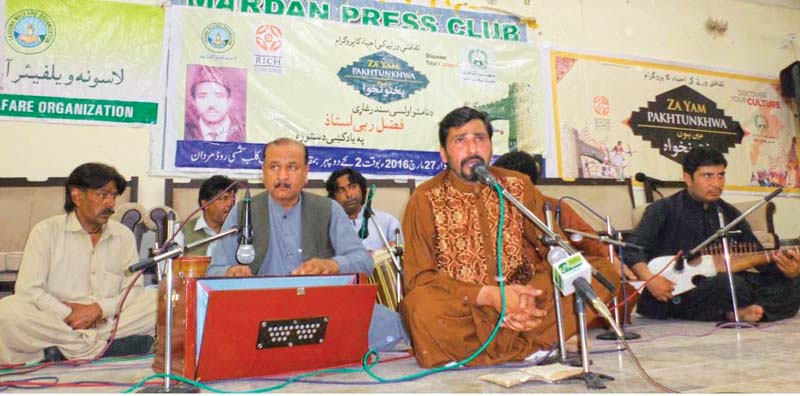 ---
PESHAWAR: Glowing tributes were paid to the late musician Ustad Fazal Rabi for his tremendous and untiring efforts in the field of music.

According to a handout, a function was held at Mardan Press Club on Monday, attended by artistes, singers, poets and people from different walks of life. Various singers and artists performed Rabi's popular numbers. The gathering was organised by the directorate of culture.

Remembering his life-long friend, senior folk singer Qasim Gul Baba said he and Rabi used to sing charbeta, badala and tapas. He added Fazal's voice could be picked out from hundreds of other popular folk singers of his time, it was so distinctive. He pointed out, "People would change wedding dates [according to his availability] as no wedding would be considered complete without his music."




While eulogising his services, local poet Mohammad Saeed said, "Ustad Fazal had mastered every genre of Pashto folk music." He added Rabi also excelled in playing rabab and harmonium. He maintained musicians should learn from Rabi's music.

Music composer Ustad Nazeer Gul said many of Rabi's folk songs were still sung by his fans. "Fazal Rabi was one of those folk singers who learnt around 1,500 tapas and could sing [each one] flawlessly."

Discussing Rabi's additions to music genres, Professor Abaseen Yousafzai said Rabi sang long narrative poems, including Gul Ao Sanubar, Yousaf Khan Ao Shehar Banu and many other folk numbers.

The only son of the late singer, Irfan Kamal, who is associated with Pashto music said, "My father shot to fame when his voice was aired on Radio Pakistan in the early 60s."  Kamal added, "Ustad Fazal had good command over rhythm, composition and tune."

The backdrop

Ustad Fazal was born in 1930 in Toru, Mardan; his family hailed from Bajaur Agency. Rabi started his musical career at the age of nine despite family opposition. Rasheed Ali Dehqan, a producer of Radio Pakistan, Peshawar introduced him back in 1962. Along with singing, he also learnt how to play the sitar and used to sing folk numbers with much ease and fluency. Ustad Fazal introduced a new style by singing long narrative poems and folk tales. He also sang light ghazals, and recorded more than 450 Pashto songs during his career.

Published in The Express Tribune, March 29th,  2016.