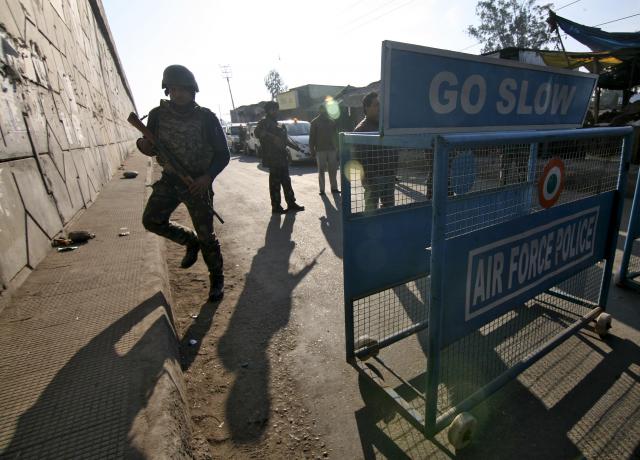 ---
NEW DELHI: Nearly three months aftera brazen attack on India's Pathankot airbase, Pakistani investigators arrived in New Delhi on Sunday to probe possible involvement of a Pakistan-based militant group.

Right after the January 2 attack, in which seven Indian troops were killed, New Delhi had blamed the Jaishe- Mohammad (JeM) militant group. Subsequently, Pakistan mounted a crackdown against Jaish and formed a joint investigation team (JIT) to investigate

the Indian claim but New Delhi had been reluctant to allow the JIT to visit the base and collect evidence.

However, the team was finally given permission and it will travel to Pathankot on Monday (today) to survey the airbase and meet India's National Investigation Agency (NIA) officials.

Upon their arrival in New Delhi, the JIT was given a '90-minute briefing' by the NIA officials on the evidence collected so far, including the route of infiltration over the India-Pakistan border, identities of the dead attackers, and the information that links

them to the alleged Jaish facilitators in Pakistan.

"We have pinned the route taken by the terrorists on a map and will be presenting it before the JIT. The riverine route and the village through which they entered along Pakistan border have all been identified by us," said anofficial.

The team, which is expected to travel to Pathankot by a special Border Security Force (BSF) helicopter, will be shown 'the scene of the crime', and allowed to interrogate non-military witnesses.

It will, however, not be allowed to speak to NSG, BSF or military personnel, who were present during the attack.

They will also not be able to move freely around the base and will be restricted to the area that the terrorists had been in, officials said.

The official said this was the first time India has allowed a team from Pakistan to carry out an investigation of this kind at such a sensitive location.

The five-member team is led by Punjab Counter Terrorism Department (CTD) chief Muhammad Tahir Rai and includes officials of Inter-Services Intelligence (ISI) and Military Intelligence (MI).

All members have been given 15-day visa to complete their investigations.

Media reports quoting official sources said India had not insisted on a letter rogatory (LR) as a precondition to investigation.

An LR is a request sent by a country's judicial officers for permission to take evidence in a foreign country.

Published in The Express Tribune, March 28th,  2016.