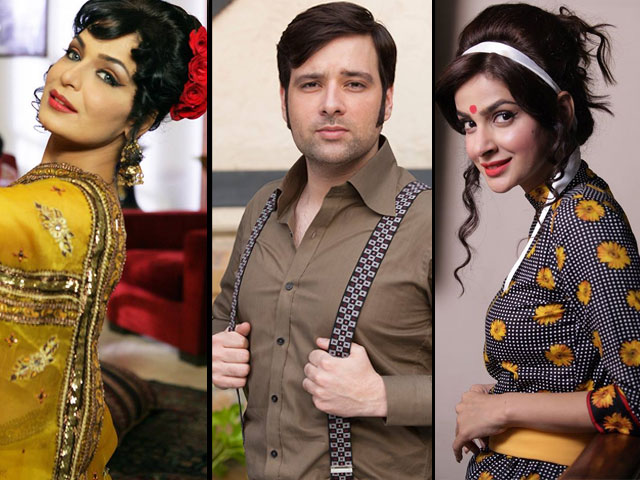 ---
Originally titled NigarKhana (meaning studio), Mein Sitara is set in Lollywood's golden era. The TV drama follows the fortunes of characters from the mid-sixties and their tremulous journey till the turn of this century.

A rather interesting aspect of its plot is how the storyline draws parallels to the 'revived' Pakistani film industry of today. Written by acclaimed scriptwriter Faiza Iftikhar and directed by Seema Tahir Khan, Mein Sitara provides a fascinating insight into all those familiar faces we think we know as well as our family, simply because we see them on our screens  every other day .

Once you're past your prime, you're nobody: Bahar Begum




The story begins with Jharna Begum (Aisha Gul) who is famous for her beautiful voice but at the peak of her career stepped down and married Farhad Sethi (Mikaal Zulfikaar), an actor and TV producer. Farhad is very ambitious and wants to make movies. Jharna on the other hand, is heavily pregnant with their third child and tired of her 'filmy' lifestyle - she just wants to catch up on family life she has missed while she pursued her career.

Won't marry Imran Khan because he's as old as my father: Meera




So far, the story revolves around the inevitable friction building up between a couple with competing priorities. Thrown into the mix is a little girl called Soraya, who is obsessed with movies and dancing. The daughter of a good for nothing drug addict and a maid, Soraya finds a friend in Jharna when her family is hired to help the heavily pregnant star.

When her parents decides to steal from the disorganised Sethi family, they are forced to leave in the dead of the night while Soraya is left behind watching Mughal e Azam.

In any other drama, we would then see a tale of abject misery in which the servant girl is beaten and tortured -- or worse -- for her parent's sins. The surprising twist in Mein Sitara however, is that although Farhad is naturally angry and interrogates Soraya, she is pitied more than blamed, and even taken under Jharna Begum's wing.

So begins Soraya's long journey from being a maid to becoming a star. Here lies Mein Sitara's greatest strength - despite the protagonist's involvement in the 'big, bad' world of the film industry, the audience is not asked to judge them. Instead, each character is written as an individual with all the human frailties, desires, and dreams.

Too many of our serials make crude, simplistic distinctions between 'good' and 'bad' people to comfort the audience's prejudices instead of writing authentically. Thus, Mein Sitara gives a refreshing insight to the human psyche.

Film star Habib dies at 85




According to the writer, Faiza Iftikhar, the characters are not based on any particular person but on the composites of many Indian and Pakistani film stars. Even in the first two episodes, we catch reflections of many Bollywood and Lollywood celebrities.

For example, similar to Soraya, film star Rani's father was a driver and she was adopted by singer Mukhtar Begum. Also, the dysfunctional married couple motif has been played out many times off screen, by couples like Amitabh and Jaya Bachchan or Guru and Geeta Dutt. This serial has two seasons, so many more recognisable figures will inevitably come to the fore.

The break out star of this serial may well be the child actress who plays Soraya. She has managed to make an impression at a very early age while seeming to be in her natural element, and very much at home in front of the camera. Aisha Gul and Mikaal Zulfikaar have not disappointed either as their performances are the glue that binds this story together.

Mikaal Zulfikar has made an art out of playing charming narcissists walking the razor's edge between self-interest and complete self-absorption. His character's style imitates that of the very famous Waheed Murad, while Jharna is always sporting an up do or copious amounts of curls as was the fashion trend at that time.




The setting, costume design and most importantly even the attitudes are satisfyingly authentic to the time period they aim to depict.

Director Seema Tahir Khan has paid great attention to every detail without letting the styling overwhelm the substance of the serial. She has also managed to get some good performances out of her cast which will later include Nauman Ejaz, Saba Qamar, Azfer Rehman, Rija Ali, Hassan Ahmed and Meera.

The only drawback may be that the story seems a little slow at times and lacks the crispness which might have made it the ratings catcher it could be with such a good script.  A little more editing and some wider shots might have made it more accessible too.

The way the serial is shot is very much in the old PTV style, with a strong emphasis on interiors and individuals having substantive conversations, which actually move the story along. It makes for an interesting comparison with the more film style of drama we see these days; where fewer lines are spoken and soaring background music is used to direct the audience.

Overall this is an intelligent, well-made drama, with all the hallmarks of subtlety and nuance that can make television viewing a pleasure.

The author is a freelance writer, a serious fan of dramas and films but most of all an observer. She tweets @Tomtomatoe 
COMMENTS (2)
Comments are moderated and generally will be posted if they are on-topic and not abusive.
For more information, please see our Comments FAQ