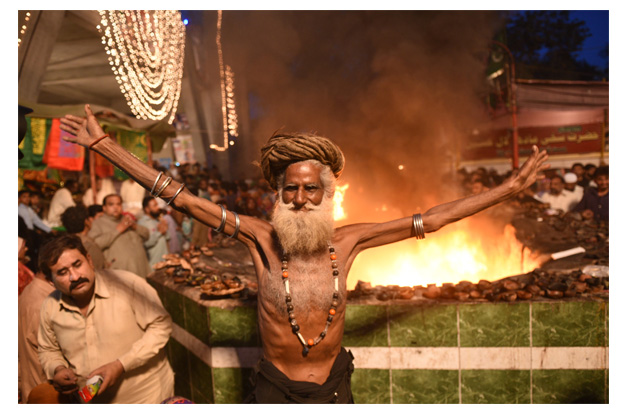 ---
LAHORE:



Mela Chiraghan attracted thousands of devotees on the second day on Sunday.




Scores of people from various parts of the country attended the ceremonies organised in Baghanpura at the shrine of Shah Hussain popularly known as Madhu Lal Hussain. They laid floral wreaths and sheets on the tomb and offered fateha. Special prayers were also offered for peace and prosperity in the country.

Hameed Sain, a devotee who reached the shrine barefoot, said he felt a spiritual connection with Madhu Lal Hussain's teachings. "I have been attending the urs celebrations for many years. I feel spiritually cleansed when I visit the shrine," he said.

Malangs, dressed in black attire, remained centre of attention for devotees. They danced on the beat of dhols, attracting scores of visitors. A bonfire, which will remain lit till the conclusion of the urs, also drew dozens of visitors. Qawwali, dhamal and recitals of Shah Hussain's poetry continued during the second day of the urs. Several religious leaders addressed public gatherings in various areas of the shrine.

All roads leading to the shrine were illuminated with lights. Dozens of food stalls were setup in surrounding areas and on the Grand Trunk Road.

The police had made special security arrangements for the urs celebrations. Police had cordoned off roads leading to the shrine and designated a single entry point where walkthrough gates and metal detectors were installed.

Around 500 police officials were deployed around the shrine under the supervision of two DSPs and an SP.

Published in The Express Tribune, March 28th,  2016.