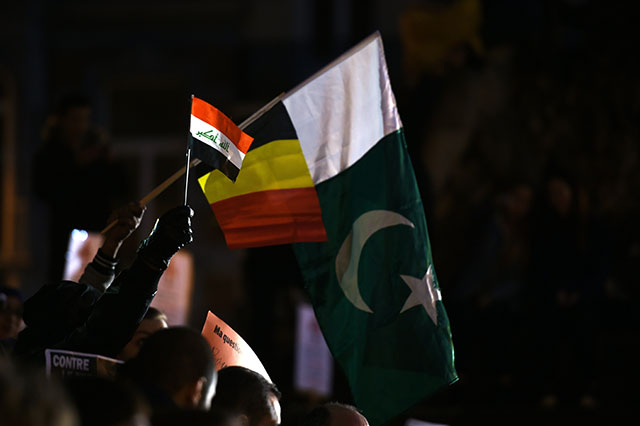 ---
BRUSSELS/ KARACHI: Tough talk and flag-waving patriotism have been rare in Belgium in the wake of this week's terror attacks, the worst to strike the divided nation at the symbolic heart of the EU.

While France and the United States rallied their citizens after major attacks evoking national identity and pledging revenge, Belgian leaders have urged tolerance and understanding.

Belgian police shoot suspect in Europe-wide terror raids

The different tone from Belgium in response to Tuesday's suicide bombings that killed 31 people is rooted in the fractured nature of the small nation of 11 million, which is cleaved in half between its French and Flemish speaking communities.

In a country where the only form of unity in recent years has been the Belgian "Red Devils" football team's success, the theme since the attacks has been togetherness.

That was clear on Place de la Bourse, where the linguistic divides in the nation appeared to be breached by grief. French and Flemish speaking Belgians both came to pay their respects.

"We feel a sort of communion, we can discuss our memories, we have something together," said Damien Bilteryst, 48, who is Francophone.

"In the end everyone is experiencing the same thing, whatever their class or origins."

The attack sites also spanned both communities, with Zaventem airport in Flemish territory and the city of Brussels being a majority French-speaking enclave in the middle of a Flemish region.

What's next for the Muslims of Belgium?

Addressing lawmakers on Thursday, Belgium's French-speaking Prime Minister Charles Michel said that "freedom, the rule of law and tolerance are more than ever our reference points for moving forward together."

In contrast, France's President Francois Hollande declared in the days after the Paris attacks in November that his nation was at war with the Islamic State group, which claimed the killings in both the French and Belgian capitals.

On the streets of Brussels there has not been the outpouring of national pride seen in Paris and New York after attacks there.

There were just as many foreign flags -- South African, Israeli and even Cuban -- as the black, yellow and red Belgian ones among the carpet of flowers, candles and handwritten messages of grief at the Place de la Bourse, which has become a gathering point for mourners.

Belgians tend to identify more with their language groups than with the nation as a result of how the country was founded, said Regis Dandoy, a political scientist at the University of Louvain.

"Belgium was created artificially, even if it was created in a revolution against Dutch occupiers," he told AFP.

Suspect wounded, held, in Brussels attacks probe

"There was no Belgian people. The words 'Belgian or Belgium' were invented after the country's creation in 1830."

Nationalism is thus not a very useful way of rallying or comforting the people, Marc Hooghe, a political science professor at the University of Leuven told AFP.

"The flag waving and military response is the kind of, let's say, language, we don't have," he added.

Belgium is already part of the US-led anti-IS coalition which has been bombing the extremist group in Iraq, and is mulling sending its F-16 fighters on similar runs in Syria.

There has not been any public talk from Belgian leaders following the attacks of further military escalation.

"The role of the state is different here than in large European countries with strong military forces, where you can have the idea that the army, the president, the republic will protect you," said Hooghe.

"In a small, not that powerful of a country, we don't believe that Belgium will protect us. Any major army could defeat us easily," he added. "We rely on each other."

Six people arrested in Brussels after attacks

The nation's Muslims, who make up about six per cent of the population, may not be welcomed into this unity. It is too early to say if the attacks will stir up anti-Muslim sentiment, as happened in other countries, including France.

"Racism is a reality that will only widen the gap and make it more difficult to integrate Muslims in Brussels," Dandoy said.

Belgium is already the EU country with the largest cohort of militants travelling to Iraq and Syria relative to its population, experts say, estimating their numbers at 300 to 400.

Following the chaos and tumult of the attacks, not everyone is certain that the subtle ways of Belgium will continue forever.

"Maybe some politicians will make decisions we don't agree with. And so maybe they will start behaving in an American or French way," said Guy Blommaert, 38, as he gazed over the memorial at Place de la Bourse.

"Maybe it's just too soon and we are overwhelmed."
COMMENTS
Comments are moderated and generally will be posted if they are on-topic and not abusive.
For more information, please see our Comments FAQ