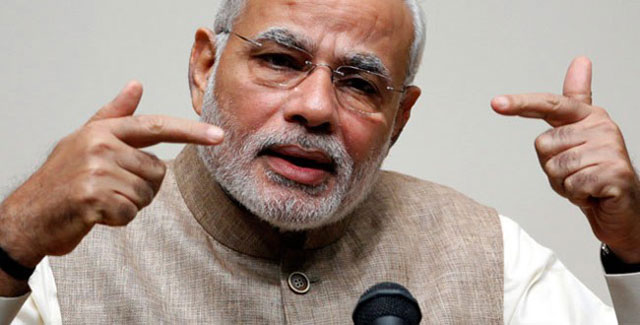 ---
Being the leader of Asia's largest democracy ensures one a prominent place at every political forum across the continent. It makes sense that India's prime ministers are natural fixtures even if they cannot be there in the flesh, as was the case in mid-January for Narendra Modi, the current incumbent. His video message was beamed to influential Asian political leaders and opinion shapers who had gathered in Tokyo at the 'Shared Values and Democracy in Asia' symposium.

This is what Modi said to the assembled participants, including Susilo Bambang Yudhoyono, former president of Indonesia, the world's most populous Muslim country and a promising beacon of democracy in the Islamic world, "All Asian civilizations have 'a common value system' that 'recognises, accepts, and even celebrates diversity among humans'". He further added, "That shared quality leads to conflict avoidance, as it is founded on harmony in diversity." In Modi's view this ability to prevent conflict by 'harmonising the diversity of humans' is a basic value of Asian democracies.

Modi extends felicitations on Pakistan Day

It is tempting to agree with Modi's offer of a useful yardstick to measure the health of Asian democracies than the tendency of letting Western democracies be the barometer. At its heart it is a nod towards a culture of consensus and Asians of all stripes may be able to relate to such a value, which requires compromise to maintain an appearance of getting along with your fellow national. The idea of rocking the boat, after all, is not a prized quality in largely conservative homes and local communities.

But for such a value to appear meaningful and to be taken seriously, eyes beyond India's borders will naturally turn to Modi's backyard. How does this idea fare in his home? Is he selling a proven archetype? Is India a success story that other lesser, struggling democracies or non-democracies, such as Thailand, Myanmar or Vietnam, can emulate?

Those who have looked, however, have a reason to pause. The latest addition to a growing list of doubts is the troubles at some Indian universities this year, and its consequent spill-off into broader society. The issues that have inflamed passions – touching on sedition and anti-nationalism – have emerged as obvious spoilers to the picture of accommodation and co-existence that Modi projected in Japan.

Four Kashmiri students arrested in India over false claims of cooking beef

One name has helped expose this: Kanhaiya Kumar, a university student many Indians probably never knew of, let alone those beyond India's borders. The 29-year-old Phd candidate at Delhi's Jawaharlal Nehru University (JNU) was arrested on charges of sedition (and subsequently released on bail) by the police in early February this year. The harsh police crackdown of students at the left-leaning university at the time was only part of the picture. Even journalists covering related events were roughed up by the ultra-conservative loyalists of Modi's political party.

Those who keep a close watch on events in India have weighed in about the trigger: Kumar's presence as the president of JNU Students Union at a campus event that also involved speeches to mark the 2013 hanging of a Kashmiri convicted of unleashing terror in the country. "His arrest signifies the increasing assault on the freedom of speech by the incumbent government," notes the Asian Human Rights Commission, a Hong Kong-based rights watchdog. "Far from being seditious, Mr Kumar repeatedly asserts his belief in the idea of India, its constitution and the rule of law," highlights the Commission.

Such comments raise the question: Which India is Modi government trying to advance? In the debate this has prompted, Sashi Tharoor, a well-known author and leading member of the opposition Congress Party, remarks "the Indian civilisation allows many religions, celebrates a range of opinions and is today sustained by constitutional democracy" in defense of the student leader. But his views have become another red flag for Kumar's critics, who are determined to narrow the 'idea of India'. One way has been to reduce the notion of Indian nationalism to something sacred, as another liberal commentator noted. The consequence of this worrying turn is easy to comprehend: If nationalism takes on religious overtones, then criticism of it will be considered blasphemy.

Modi departs from Pakistan after brief surprise visit

Such a restrictive and potentially repressive political environment is far from what Asian political leaders and thinkers were told to embrace by Modi in Japan. It even goes against the confident tone of a modern and rising India that Make in India advertisements project on international television stations to attract foreign investment. And a more open India is certainly what the government appeared to have on its mind when in February (just one day after Kumar's arrest) Modi inaugurated a Make in India promotional activity in Mumbai.

That timing has brought to the fore a question that still lingers: Which India should Asian countries take seriously?

Marwaan Macan-Markar is a Bangkok-based Sri Lankan journalist who covers Southeast Asia and South Asia for Asian magazines.