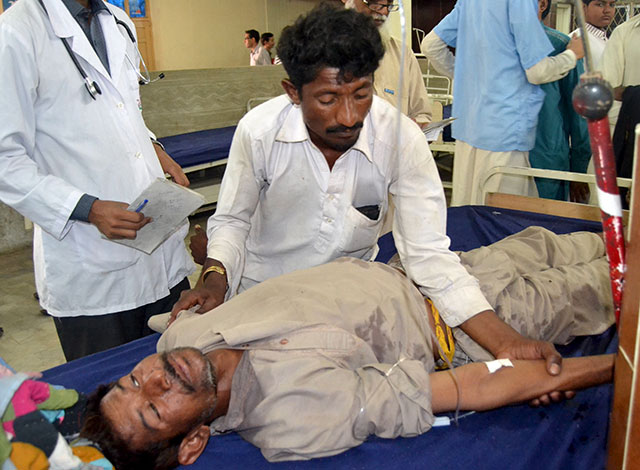 ---
HYDERABAD:



At least 40 people, among them four women, died after drinking tainted liquor in Tando Muhammad Khan district, officials said on Tuesday. They feared the death toll could go up as dozens more are hospitalised.




The poisonings occurred Monday night, two days ahead of the Holi festival which will be celebrated on March 24. Officials said all but nine victims belonged to the Hindu community. Two deaths were also confirmed in Mirpurkhas district.

26 Indonesians die after drinking bootleg alcohol

State-run and private hospitals in Tando Muhammad Khan as well as Hyderabad's Civil Hospital were overwhelmed by intoxicated patients as grieving families mourned over the bodies of their loved ones.

Sindh Health Minister Jam Mehtab Dahar said 22 people died at the Hyderabad hospital which had received 44 patients from Tando Muhammad Khan. The medical superintendent, Dr Wajid Memon, also confirmed 22 deaths.

Other deaths were reported at state-run hospitals and private clinics of Tando Muhammad Khan. Sources in the health and police departments claimed the death toll was higher than 40 as many families were reluctant to confirm the cause of death because of the social stigma attached to liquor consumption.




"I can confirm that two Muslim women are among those brought dead to the hospital," said a medic at the District Headquarters Hospital in Tando Muhammad Khan. "The families, however, denied the deaths were caused by tainted liquor," he told The Express Tribune on the condition of anonymity.

Senior police officer Nasim Ara Panhwar said they had made four arrests in relation to the incident but were chasing a key suspect who remained at large. Though she didn't name the suspect, the affected families identified him as Ali Nawaz Panhwar, a politically well-connected man.

"We have confiscated 65,000 litres of liquor only two days ago but their production is very high," Nasim Ara said.

Chief Minister Qaim Ali Shah was 'shocked' by the deaths. He directed the provincial police chief, AD Khwaja, to suspend the concerned SSP, DSP and SHO. He also directed Minister for Excise & Taxation Gian Chand Israni to suspend the concerned excise & taxation staff.

Shah also directed the IGP to launch an immediate crackdown against illegal distilleries in the province. "I will not only take action against the concerned officers but also send them behind bars in case anyone of them is found negligent," he added.

Petrol stations owned by Muslim family remove alcohol from shelves

The chief minister ordered the DIG Hyderabad to conduct an inquiry into the incident and submit findings within a week. Shah took the action after lawmakers in the Sindh Assembly criticised his administration, particularly, the excise and taxation department, for its failure to check the sale of illicit liquor.

Though legal breweries exist in Pakistan, the sale of alcohol and consumption is prohibited for Muslims and tightly regulated for minorities and foreigners. While wealthy Pakistanis buy bootlegged foreign alcohol at heavily inflated prices, the poor often resort to home-brews, locally known as Katchi Sharab or Tharra, that can contain methanol, commonly used in anti-freeze and fuel.

In October 2014 at least 29 drinkers were killed after consuming methanol-tainted liquor over the Eid public holidays.

According to Dr Beekha Ram of the Liaquat University of Medical and Health Sciences, tainted liquor drinker dies within 8 to 12 hours if he does not get medical treatment. "The poisoning begins from liver followed by brain, heart and kidneys," he said, adding that the only health centre for treating liquor poisoning in Sindh is in Karachi.



Published in The Express Tribune, March 23rd, 2016.