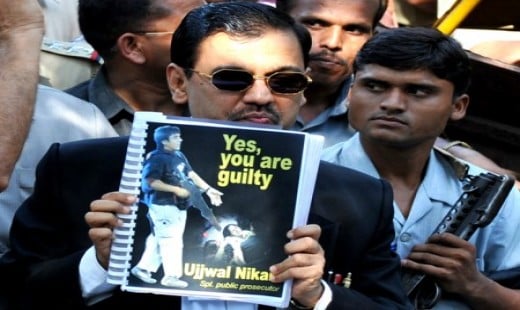 ---
MUMBAI: An Indian court will begin hearing arguments on Tuesday to determine whether Ajmal Kasab convicted over the deadly 2008 Mumbai attacks should be sent to the gallows.

Mohammed Ajmal Amir Kasab was found guilty on Monday of murder, waging war against India and a string of other charges over the siege in India's commercial capital which left 166 people dead and more than 300 others wounded.

Judge M L Tahaliyani said that he would hear arguments "on point of sentence" from public prosecutor Ujjwal Nikam, who favours execution, and from the defendant's lawyer, K P Pawar.

The charges of waging war against India and murder both carry the death penalty but there was no indication about how long the process would take nor when sentencing would take place.

Kasab was the only gunman involved in the November 2008 attacks to survive. Nine other assailants were shot by security forces during the assault on luxury hotels, a restaurant, Jewish centre and Mumbai's main railway station.

The judge said that Kasab, 22, had been trained in Pakistan to fight a "war" against India and had been directly or jointly responsible for the deaths of 52 people at the train station -- the bloodiest episode of the onslaught.

Many people in India, including the families of some of the victims, have long called for Kasab's execution, even before the high-profile trial began in a high security prison court in April last year.

"Kasab should be hanged and we should show him no mercy," said Smita Salaskar, the widow of Vijay Salaskar, a police marksman killed as Kasab and an accomplice fled the railway station.

However, the imposition of the death penalty could trigger a lengthy and potentially open-ended appeal, observers say. India has not carried out an execution since 2004 and only two since 1998.

Home Minister P Chidambaram has said that appeals for clemency to India's president were being considered on a case-by-case basis but has not given any indication when decisions will be made. He has also hinted that the delays in carrying out death sentences were due to a possible change in the law, mandating a maximum sentence of life imprisonment without parole instead of the death penalty.

Kasab's guilty verdict was widely expected given what the prosecution called "overwhelming" evidence against him, including DNA and fingerprints, security camera footage and photographs of him carrying an AK-47 assault rifle.

The former labourer was also found guilty of conspiring with the nine other gunmen slain in the three-day standoff with Indian security forces, and 20 other people named in court papers. The alleged conspirators include Zakiur Rehman Lakhvi, founder of the banned group Lashkar-e-Taiba (LeT), key operative Zarar Shah and Hafiz Saeed, whose Jamaat-ud-Dawa charity is seen as a front for the LeT.

Lakhvi and Shah are currently on trial in Pakistan. Chidambaram said Kasab's conviction was "a message to Pakistan that they should not export terror to India" and a warning that extremists would be prosecuted.

India suspended peace talks with Pakistan after the Mumbai siege, accusing it of sponsoring the attacks. Tentative steps have only recently begun to resume a dialogue between the two nuclear armed neighbours. But some people in Kasab's home village of Faridkot in the Pakistani Punjab sensed a conspiracy against their country by India. Muhammad Akram, a local farmer, told AFP: "This is wrong. India is biased."