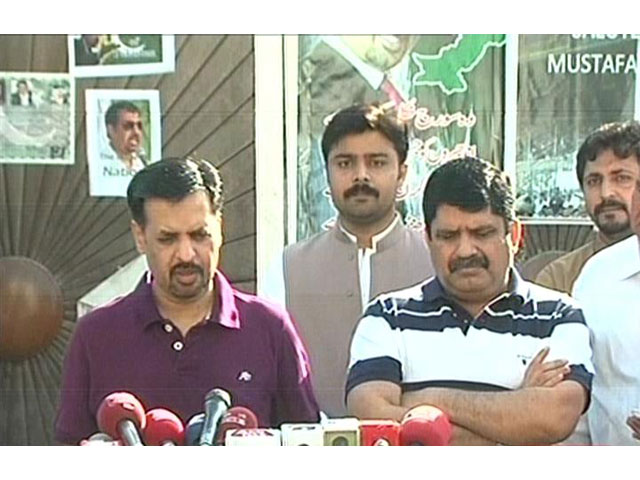 ---
Former Karachi mayor Mustafa Kamal has said Altaf Hussain is never affected by the disappearance of any MQM worker as it helps him divert the attention of the masses from himself.

The MQM dissident, flanked by Anis Qaimkhani, was speaking outside his residence in Karachi on Tuesday.

"Believe me Altaf Hussain is never a bit worried or has any problem if any of his workers is made to disappear or even killed," Kamal said adding "[such] grievances suite him [MQM chief] as attention of the masses is diverted from him on such occasions."

Anees Ahmed advocate joins Mustafa Kamal

Kamal announced to visit Hyderabad this week and other places to further the "message of patriotism there."

"We will also announce our party's name and schedule of an upcoming gathering tomorrow," he added.

Mustafa Kamal to hold first-ever political rally in April

"I do not sympathise with the crimes of MQM workers; I just ask them to be seen in light of humanity."

Taking aim at his former party's leaders, the former Karachi mayor said those who turned youths into terrorists were addressing media on a daily basis.

We took this initiative of launching the party to forge unity in the masses divided along the lines of sects, ethnicity and cast or creed, he reiterated.

Kamal said they were receiving response from Nawabshah, Hyderabad, Sukkur, Larkana, Khairpur, Pishin, Swat, Hunza and several other cities of the country, as well as from abroad.

"While we could not respond to all the messages being received, we have asked our followers to establish offices wherever allowed and convey our message to as many people as possible," Kamal maintained.

Mustafa Kamal launches political party after no-holds-barred tirade against Altaf Hussain

On Monday, Anees Ahmed advocate distanced himself from the MQM and joined the former mayor's fold, following joining of several other leaders since the beginning of this month.

Kamal launched his organisation on March 3, while also sternly criticising Altaf and accusing him of fomenting terrorism in Karachi with the help of Indian spy agency RAW.
COMMENTS (2)
Comments are moderated and generally will be posted if they are on-topic and not abusive.
For more information, please see our Comments FAQ