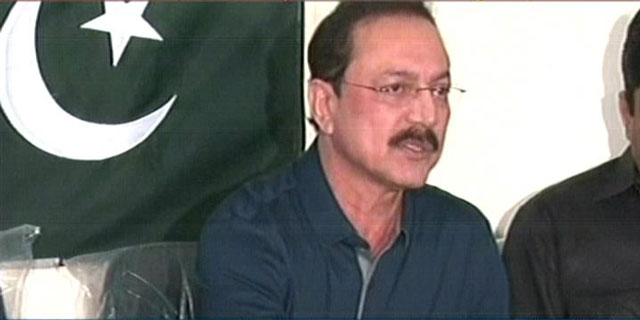 ---
KARACHI: Deposed Muttahida Qaumi Movement (MQM) leader Anees Ahmed advocate on Monday joined the newly-formed political party of Syed Mustafa Kamal, who blew the whistle on MQM supremo Altaf Hussain in a dramatic two-hour-long press conference earlier this month.

"We welcome Anees Advocate Bhai in this 'national convoy'," Kamal told news men during a press conference at his residence in Karachi's DHA neighbourhood before turning the microphone to advocate.




MQM leader Raza Haroon arrives in Karachi

"The way Mustafa Kamal and other leaders here put things forth and educated them, may I let you know that I joined this organisation three years ago from now," Anees advocate said.

"I was confident there will come a time when people will break their silence and this change will emerge."

Ahmed congratulated other for joining Kamal's fold and speaking up against the 'injustices' in the party.

"I dedicated more than 30 years to a man," he said referring to Altaf. "I would say this man may live for as long as he can, to find out in the end how he is swept away. He'll have to see for what he did to his people that they pledged association to him but all of that went in vain."

The MQM had sacked Ahmed, a member of its Rabita Committee — in 2012 over alleged misconduct.

Waseem Aftab, Iftikhar Alam join hands with Mustafa Kamal

Last Thursday, Kamal had convened a press conference apparently to include more political figures in his fold, but the venue and schedule was changed twice. The former mayor appeared at the ceremony but left without talking to media that was kept on waiting for several hours.

On March 10, two ex-MQM leaders Waseem Aftab and Iftikhar Alam announced to join Kamal's newly-formed political party. Aftab is a former Karachi Tanzeemi Committee (KTC) in-charge while Alam is a member of Sindh Assembly from PS-106.

Dr Saghee­r Ahmed ends 28-year-long associ­ation with MQM, joins Mustafa Kamal

Upon returning home from self-imposed exile on March 03, Kamal launched a blistering attack on MQM chief Altaf Hussain and challenged the 'iron grip' of the MQM on the city by forming a new party.

Kamal — who won wide support as mayor of Karachi from 2005 to 2010 for his efforts to ease traffic and improve public services — accused Altaf of working for India's premier spy agency, the Research and Analysis Wing (RAW), destroying two generations of Mohajirs (Urdu-speaking people) and issuing threats under the influence of alcohol.