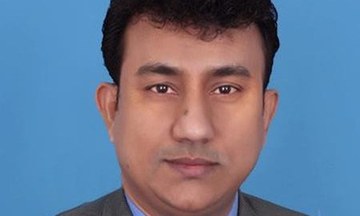 ---
KARACHI: Rangers personnel arrested from Karachi a Muttahida Qaumi Movement (MQM) office-bearer in a raid early Monday morning.

"Rangers arrested MQM Rabita Committee Deputy Convener Shahid Pasha during a raid at his apartment in the Gulistan-e-Jauhar area of the metropolis," a statement issued by the party said.

MQM spokesperson Wasay Jalil confirmed Pasha was taken by Rangers into their custody.


Breaking News: Just now #MQM Deputy Convener Shahid Pasha arrested by Rangers at 3.00am during a raid on his flat Gulistane Jauhar #Karachi

— Wasay Jalil (@WasayJalil) March 20, 2016
I strongly condemn the arrest of #MQM deputy convener Shahid Pasha. This shows KHI Op is against #MQM only. @StateDept @foreignoffice @hrw

— Nadeem Nusrat (@nadeem_nusrat) March 20, 2016


'Mustafa Kamal's claims should be taken seriously'

Rangers inform ATC about Pasha's 90-day preventive detention

Later in the day, the paramilitary force declared Pasha's arrest, and informed a Karachi-based Anti-Terrorism Court (ATC) about the leader's 90-day preventive detention. He was produced in the court of Justice Syed Mohammad Farooq Shah.

Pasha was made deputy convener of the Rabita Committee a year ago, and is believed to be an important figure in MQM's organisational structure.

MQM workers tortured in Karachi jail, says Farooq Sattar

The arrest comes days after MQM leader Dr Farooq Sattar accused the Rangers of torturing and interrogating "40 under-trial prisoners" belonging to the MQM imprisoned at Karachi Central Jail, and "pressuring the workers to leave the party".

He alleged the workers were being forced to fill out a pro forma and told that they would be allotted every facility in prison, cases against them would be withdrawn and they would be released only if they changed their loyalty.
COMMENTS (6)
Comments are moderated and generally will be posted if they are on-topic and not abusive.
For more information, please see our Comments FAQ