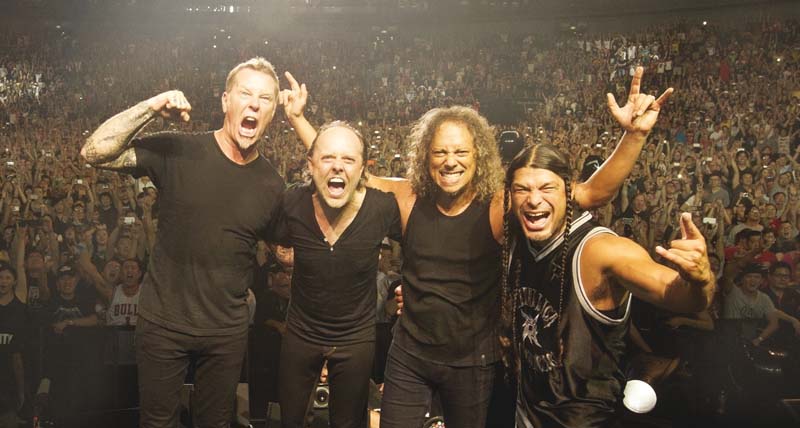 ---


Thirty years have passed since drummer Lars Ulrich and his Metallica band mates released their mind-boggling masterwork, Master of Puppets, and it still sounds as powerful as it does fearless. It remains a high-water mark for not just the band but for metal as a genre. Its eight songs make up a deep and visceral look at manipulation in all its forms but thanks to the mix of riffs and rhythms, it never trades heavy for heady.




The album is also irrevocably tied to bassist Cliff Burton, who had co-written close to half its songs and who died in a tour-bus accident six months after the record came out. In recent years, the band has begun playing the album's eight-minute instrumental, Orion, in deference to Burton.

"It was a crazy time. We were really young, really fresh-faced," the Ulrich told Rolling Stone. "When I see photos of us from that time, there was purity ... We were all music fans. We had all kinds of posters on the wall: Iron Maiden, Michael Schenker, UFO, Ritchie Blackmore. Everything was about music. We were listening to Deep Purple, AC/DC, Motörhead and the rest of it. We were living and breathing music 24/7 with no ulterior motives."

Rock-solid bod secrets from the world's fittest men

The summer of '85 still feels fresh to Ulrich, and one memory in particular stands out. "We sat around and watched Live Aid," he says. "We recorded the concert, sat there and watched Black Sabbath play at nine in the morning or whatever it was. There was Status Quo and Led Zeppelin. It was a crazy time."

The metal icon feels there's a spark or impulsiveness that happens when you're in your 20s. "We wrote Master of Puppets in probably eight weeks over that summer. Nowadays, it takes me eight weeks just to drive to the studio. Death Magnetic took us probably 18 months from when we started writing to when we started recording. On this current record, it probably took us about nine months. How in the world do you write a record like Master of Puppets in eight weeks?"

One of the boldest pieces of music on Master of Puppets, Orion opens with a raw, mushy bass sound and grows into a grooving jam with solos that alternate between gloomy and hopeful before fading out on a militaristic rhythm-guitar line. "For me, Orion was Cliff Burton's swan song," guitarist Kirk Hammett said. "It was a great piece of music, and he'd written the whole middle section. It kind of gave us a view into what direction he was heading. If he would have stayed with us, I think he would have gone further into direction. Our sound would be different if he was still here." Hammett believes the late bassist had a different feel and approach than the rest of the band members. "It was much welcomed."

"If it's been 30 years of Master of Puppets, this year is the 30th anniversary of Burton's passing," Ulrich said. "That's crazy. Thirty years? "

The drummer said Burton was fiercely protective of his own kind of thing. "A photographer might say something things like, 'Burton shouldn't wear those baggy bellbottoms,' but he was so protective of who he was."

Published in The Express Tribune, March 21st,  2016.

Like Life & Style on Facebook, follow @ETLifeandStyle on Twitter for the latest in fashion, gossip and entertainment.
COMMENTS
Comments are moderated and generally will be posted if they are on-topic and not abusive.
For more information, please see our Comments FAQ