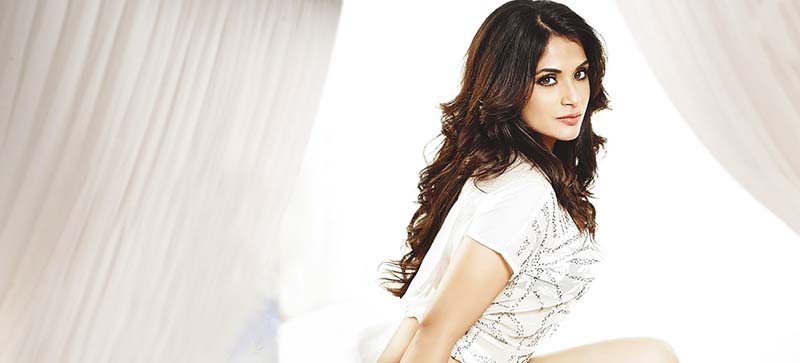 ---
KARACHI:



For those who believe women in Indian cinema are about 'Pink Lips' and 'Chittiyaan Kalaiyaan' only, it is high time they rethink the binary. Be it Gangs of Wasseypur's commanding matriach Nagma Khatoon or Masaan's rebellious Devi, the Rasila of Ram-Leela or the Bholi Punjaban of Fukrey, in less than eight years Bollywood actor Richa Chadha has shown that "a girl sure knows her limits but a wise one knows she has none".




In an exclusive conversation with The Express Tribune over the telephone, Richa explains what she means when she says that she wants to be part of the change in Indian cinema. "Here it's all about the stars. It is very difficult for an outsider to break into the industry and survive for long," she says.

During her brief but fascinating film career, she has thrown punches, hurled abuses, wept, growled and fought off any and every stereotype that is pinned on Bollywood's top girls. "My career choices haven't been conscious at all. It's a two-way thing. At times, I chose and at times, they just came my way," she maintains.

Aishwarya Rai starrer 'Sarbjit' runs into barriers at Wagah Border

Devi and Nagma Khatoon

A case can be made that Gangs of Wasseypur was a game-changer for Indian cinema. The deliciously pieced together story of crime and revenge testified to Anurag Kashyap's genius and announced that India is still part of a global continuity of film culture that has seen the likes of Ray, Leone, Tarantino and Coppola. "I am really glad that I debuted with Gangs of Wasseypur. It was an unusual film that was too ahead of its time," she recalls, walking out for a moment to answer the door.




Richa feels 2012 was a time when Indian audiences were craving for something new. "Several big projects had fallen on their faces. Shahid Kapoor and Priyanka Chopra's Teri Meri Kahaani and Gangs of Wasseypur were released simultaneously. Despite having a star cast, the former turned out to be a flop." On the other hand, she adds, the only known actor in Gangs of Wasseypur was Manoj Bajpai who is also labelled as a character actor. "Several people tried to make similar films but they all failed … you cannot borrow an idea and succeed the same way."

When asked what her favourite line from the film is, Richa refers to the scene where Nagma's husband is leaving for a brothel and she knows where he is going. "Tumko tharak mitana hai, jahan jana hai jao. Bus ghar mat lana nahin to yaheen cheer denge. Aur suno, khana khao, taqat aega. Bahar jakay beijjati mat karana!" Despite knowing about her husband's infidelity, Richa explains, Nagma still has a sense of ownership over her husband and allows him to go wherever he wants. "It was quite forward for that time."

She agrees that Bollywood is quite a fragmented place where stereotypes rule supreme. "Nawazuddin Siddiqui has such a strong stereotype and people admire him for that only. Even with me, people feel that because I debuted with Gangs of Wasseypur, I should only be offered films like that," Richa maintains.

On the contrary, she does not want to restrict herself. "I want to do all kinds of films. The thing is, films such as Wasseypur or Masaan don't make you much money and this is our primary source of income … we have to think about sustenance as well," she says.




Richa recently shot for Pooja Bhatt's upcoming film, Cabaret. "That film has lots of songs and dancing. I think being versatile is possible today. It wasn't like that 20 or 30 years ago."

After Gangs of Wasseypur, her next titular role came with Neeraj Ghaywan's Masaan. "My character in the film was very quiet and different from the girls of today," she says. Masaan was India's first film in 27 years to make it big at Cannes. "In sub-continental societies, men are forgiven for what they do but women aren't. The role of that cop, for instance, in Masaan is so haunting. He himself has a daughter yet he blackmails someone else's daughter."

On the whole 'art house versus commercial cinema' debate, Richa maintains, "Nobody wants to make a film thinking they want a flop. Making a film in today's economic conditions is not easy. Kya kya karna parta hai!" she says.

We need more handsome actors in India: Soha Ali Khan

Richa feels recent times have seen a shift in the preferences of audiences. "Films that had zero expectations have made a lot of money," she says, crediting this change to an organic process. "This is the same audience that downloads Game of Thrones via torrents. You cannot fool them anymore. Even my maid knows what films are coming out and which one won at a film festival." However, she says the bulk of India's film audience still watch films for entertainment rather than for their artistic merit.

Going with the flow

Daughter to a university professor, Richa also pursued professional education in journalism. However, she always wanted to do film. "I have to achieve a lot more," she says, her reply characteristically candid. "I just feel one should reach the place they deserve. For now I am just going with the flow." A firm believer of cosmic determinism and a stoicist at heart, Richa believes whatever has to happen, will happen. "I think if you start loving that, the journey will be worth it."

Richa feels what she has read has had an impact on her. "My favourite poet Nida Fazli passed away only recently. I also read Faiz Ahmed Faiz; although to be honest I find it difficult at times, so it's either me asking others for help with the meaning or looking it up myself," she says.

But she is not the only one of her generation to suffer from this problem. Richa says her grandfather knew both Urdu and Farsi but it's sad that today her generation struggles even with Hindi.




The Oye Lucky! Lucky Oye! star is, however, guilty of not being able to dedicate time to reading anymore. "Bollywood dumbs everyone down," she chuckles. However, she vows to remain true to her real self. "It doesn't make any difference to me [what people think of me]," she says. "I feel the more real you are, the more people will like you."

Much-hyped

Richa will next be seen in the Omung Kumar directorial, Sarbjit. She recently completed a tiring shooting spell in Amritsar for the film which revolves around the story of Indian national Sarbjit Singh, who was convicted of espionage in Pakistan. "Sarbjit is about the human casualty of conflict," she says. When approached for essaying the role of Sarbjit's sister, Richa instantly felt there was something about the film that needs to be said. "In Pakistan, they call him a spy. In India, they say he was a farmer," she maintains. "Instead of investigating his identity, we have tried to look at what his family went through in the process." Whatever the subject of the film may be, Richa is a pacifist through and through. "I think those who want war are just louder than those who want peace. That's the only difference."

As someone who read history in college, Richa examined Partition with great interest. "Things were so violent in areas such as Punjab, Rajasthan and Bengal. The human cost was always ignored," she says. "I have no qualms about saying this — India and Pakistan simply cannot afford this belligerence. The governments are moving in a direction where they will only repeat history."

The past few years have shown that any Indian movie that brushes against anything Pakistan, usually lands in trouble with local censorship watchdogs. If, for instance, the film is imported and submitted for certification, it is bound to get a reaction from the Pakistani government. Richa is not surprised. "Every government would react the same way. Their only job is to react," she laughs.

Lost in Anarkali

In 2006 Richa crossed into Pakistan for the first time. "We had come to stage this play called Aur Kitne Tukray. I was an extra in the cast," she recalls. The minor role instead provided her with an opportunity to wander the streets of Lahore and more importantly, visit Saadat Hasan Manto's grave. "I have a few acquaintances such as Meesha Shafi in the city. I visited this garden that also has a museum and also met Manto sahib's daughter." After a moment of hesitation, she catches her train of thought once again. "Actually I even got lost in Anarkali Bazaar. Dilli ke bazaar to itne badnaam hain ke agar koi wahan kho jaye to bus …," she says, with the line cutting off at the fortune moment.

On Manto she has more to add. "He is among those who influenced me a great deal."

Despite Richa travelling a lot, Lahore had an impact like few other places. "I wasn't able to get Lahore out of my head. Anay ke kafi din baad tak us tehzeeb aur sharafat ko miss kia," she says, adding that Pakistanis are in fact more cultured and speakers of a more refined language. "Here in Bombay, the spoken language is quite bad. 'Kya karne ka hai'... this is how we talk." When she praises Pakistan, she feels she actually praises her own heritage. "There isn't much of a difference between North India and Pakistan anyway."

Urdu, drama and Fawad

Talking language, she mentions Pakistani TV dramas that are aired in India. "They have quite a following. My Mummy and Nani are avid fans," she says. When asked what is it that has made them such a sensation in a country where over 690 TV channels themselves generate content 24/7, Richa says, "See. You people tell stories so liberally and end them in like 30, 40 episodes. Here our dramas regurgitate the typical saas-bahu friction and see no end." She feels it might be the case that Pakistani television too works on similar patterns but nonetheless, "whatever is exported to India is top-of-the-line".

It seems conversation about Pakistani dramas has a causal relationship with gushing over Fawad Afzal Khan. "I really like Fawad," she sheepishly submits and almost immediately recovers with an afterthought. "Every girl in India likes him." So what is it that makes the actor, who according to Scroll.in has been making weather disturbances across India, so desirable? "You see, real men are a dying breed," she attempts to reason. "Whoever is a gentleman and talks respectfully, instantly gets more brownie points." Fawad's public outlook also sets him apart from some of Bollywood's big boys, who still feel hypermasculinity is enough to floor every and any girl. "He comes across as a good, family man who is always seen with his wife," Richa continues, before changing gears and bringing Coke Studio into the conversation. "By the way, I am a huge fan of Coke Studio. Fareed Ayaz and Abu Muhammad's Kangna is one of my favourite tracks!"

Although she hasn't been able to follow contemporary Pakistani cinema as of late, she did see Shoaib Mansoor's Khuda Kay Liye and loved it. When asked whether she will sign up if a Pakistani film comes her way, she says, "Yes! Why not?" dropping a subtle hint, "I might come to Lahore in December this year. Let's see."

The actor is also a passive follower of cricket and feels the whole India-Pakistan rivalry is blown out of proportion. Revisiting a popular Faiz misra, she says, "Aur bhi gham hain zamanay mein cricket ke siwa!"

Published in The Express Tribune, March 21st,  2016.

Like Life & Style on Facebook, follow @ETLifeandStyle on Twitter for the latest in fashion, gossip and entertainment.