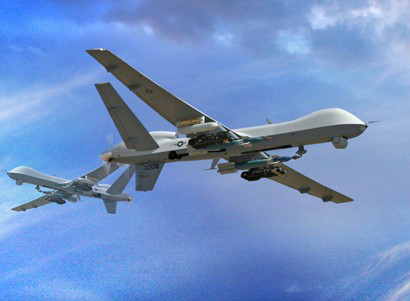 ---
KARACHI: The Pentagon offer to supply Pakistan with unarmed surveillance drones not only falls short of the requirements of the armed forces, but may also cripple the already fragile state of the country's industry of unmanned aerial vehicle (UAV) manufacturers.

So say industry insiders, who are furious about the deal. Last January, US Defence Secretary Robert Gates had announced plans to provide Islamabad with three systems of surveillance, comprising 12 Shadow drone aircraft and ground stations at an estimated cost of $20 million by the end of this year.

But industry insiders insist they have the technology to develop similar drones.

"Shadow 200 (military nomenclature RQ-7) is old by today's standards," says Dr Haroon Qureshi from Islamabad, who is a pioneer in the field and owns the private company East West Infiniti Private Ltd (EWI). "Several Pakistani programmes are equally potent and approximately 100 aircraft can be ordered from our own industry for the same amount of money," claims Qureshi.

"The Shadow is a pretty docile UAV which provides video surveillance using the POP200 payload sensor built by an Israeli company Tamam; even its line of sight is within the 60- 120kms range that can identify a target at a distance of between two and four kilometres," he adds. Raja Sabri Khan, the MITeducated chief executive of Integrated Dynamics, a private company based in Karachi, says:

"Our unarmed tactical drones can definitely match and even exceed the specifications of the Shadow." Another UAV scientist who wishes to stay anonymous says, "It's so ironical: the Islamic Republic of Pakistan will end up buying drones from a company whose roots are deeply founded in Israel." The Shadow programme began as a project between the American AAI Corporation and the Israeli IAI defense companies.

A spokesperson for another private company, Satuma, which has a contract with the Pakistan Airforce, says the money would have been better spent if it had been invested in the domestic industry. Dr Qureshi goes a step further. "Had our military invested the same amount – $ 20 million – in the private sector 10 years ago, we would have had a much more sophisticated drone and perhaps even an armed version today," he rues. Beggars can't be choosers A senior Pakistan Army officer says the deal for Shadow and other similar US tactical drones are on, despite the reservations.

"It's true that we already have our own indigenously produced unarmed drones, which we use for reconnaissance missions in South Waziristan and Bajaur," he says. "What we basically wanted from the Americans was a drone with a weapons payload system. But they have refused to give us a Predatorlike weapon and now we are basically taking whatever we can get".

But insiders allege that the only reason the military is going for the Shadow are the kickbacks and foreign trips.

"These range between five and 15 per cent of the purchase price," reveal these sources. The army officer, however, rubbishes these assertions. "We will be getting the unarmed drones under the US government's Foreign Military Sales' provisions for security assistance and aid," he insists. "If military aid for Pakistan is earmarked at $500 million this year, delivery of drones will be part of this package."

Made in Pakistan

There are four private enterprises in the country that are currently in the business of making drones, including EWI, Satuma, Integrated Dynamics and Global Industrial Defence Solutions. At least two of these companies have exported their drones to foreign countries such as the US and the Middle East. "Our UAV industry has to go and look for customers in the rest of the world, while the Pakistan military ignores us," they complain. Some scientists in an individual capacity are also working on drone projects.

An example is a Lahore-based engineer with a degree from NUST currently working on a shoulder-propelled micro drone for shortrange reconnaissance missions. The Air Weapons Complex (AWC) and the National Development Complex (NDC) are two public sector bodies under the National Engineering and Scientific Commission (Nescom) division which are involved in developing UAVs. Previously, Nescom's Project Management Organisation was also involved in a project to develop drones, but later this body was disbanded.

None of the drones produced by private companies have an armed capability. Nescom, however, has been working an armed version called the Buraq for the last one and a half years, which is expected to make its test flight by next year. Drones in action Pakistan already has a fleet of two foreign-made unarmed drones. The Italian Falco drones were delivered to the Pakistan Airforce in 2008, reportedly at a cost of $40 million. These were were seen flying near Sargodha during the recently concluded Azm-e-Nau military exercises, says an insider.

The last of these 12 Flacos are currently being assembled at the airforce's Kamra complex. The army has the Germanmade Luna drone which cost between $20 and $30 million. A local drone manufacturer complains that this will be third time when the armed forces will go for a foreign purchase despite knowing that similar high-end technology and cost effective products are available locally.

The indigenous drones with the Pakistan armed forces are the Uqab with the Pakistan Army and the Bravo with the Pakistan Air Force. (The Pakistan Air Force maintains a UAV base called Mureed which lies between Chakwaal and Sargodha.)

Both are copies of the same model which was designed by the private companies EWI and Satuma. The air weapons complex is working on a long range tactical UAV called the Shahpar, which is basically a super version of its Bravo drone.