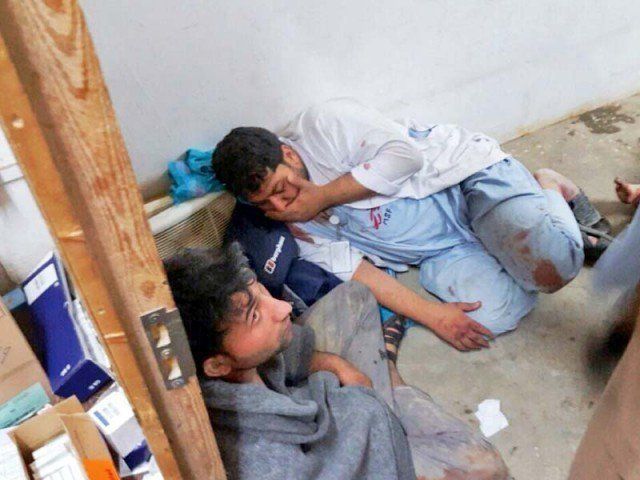 ---
KABUL: Rights campaigners Friday lambasted US "punishments" handed to officers involved in a catastrophic bombing raid on an Afghan hospital, saying the failure to criminally investigate them is an "injustice and insult" to the victims.

The bombing last October of the Medecins Sans Frontieres (MSF) hospital in Kunduz -- which came as NATO-backed Afghan forces clashed with the Taliban for control of the northern city -- left 42 people dead, triggering a storm of global criticism.

US officials Thursday said those involved in the strike have been disciplined, with some suspended from duty and others facing "administrative" action such as "negative counselling" or being told not to do something again.

US military personnel punished over Afghan hospital attack

"For good reason the victims' family members will see this as both an injustice and an insult: the US military investigated itself and decided no crimes had been committed," Human Rights Watch said in a statement.

"The failure to criminally investigate senior officials liable for the attack is not only an affront to the lives lost at the MSF hospital, but a blow against the rule of law in Afghanistan and elsewhere."

MSF did not immediately respond to the US announcement.

The medical charity has previously branded the strike as a "war crime", saying the raid by a AC-130 gunship left patients burning in their beds with some victims decapitated and suffering traumatic amputations.

MSF hospital strike was 'human error': US general

General John Campbell, the US commander in Afghanistan at the time, admitted the strike was "caused primarily by human error", prompting a strong rebuke from the charity who slammed American forces for "gross negligence".

The charity has repeatedly called for an independent international inquiry, even delivering a petition signed by hundreds of thousands of people to the White House, but so far neither the US nor Afghanistan has agreed.

President Barack Obama has apologised for the Kunduz attack and the Pentagon has said it will pay compensation to the families of those killed.

The Pentagon is next week due to publish a version of its report on the attack. It will be redacted to remove classified material.

The strike came after a resurgent Taliban briefly captured the northern provincial capital in their biggest military victory since they were toppled in 2001.

Observers have said the bombing raid, which lasted nearly an hour, had left open the unsettling question of whether those involved had ripped up their own rulebook in a chaotic effort to take out the Taliban.

Kunduz air strike: Witness recounts horror of US bombing

MSF has called for the International Humanitarian Fact-Finding Commission (IHFFC) -- an independent body created under international law but which has never been used -- to investigate the attack.

However, it would need permission from the US and Afghanistan to proceed, and neither country has so far agreed.