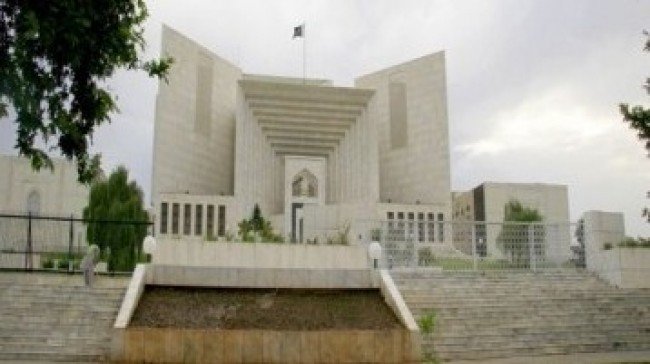 ---
ISLAMABAD: The Supreme Court on Monday reserved its judgment on petitions filed by former judges against contempt of court notices served on them after the July 31 judgment.

Justice Nasirul Mulk is leading the five-member larger bench, which comprises Justice Raja Fayyaz Ahmed, Justice Jawad S Khawaja, Justice Rahmat Hussain Jafferi and Justice Tariq Pervez. As the bench resumed hearing, Dr Basit, who appeared on behalf of the petitioner judges, argued that the larger bench could not hear his intra-court appeals and they should be heard by a single-judge bench in his chamber.

The bench, he said, only had jurisdiction to decide whether the clerk of the registrar's office "can return the appeals or not, which the court has already decided". When Justice Nasirul Mulk asked him why he was arguing if the bench was not authorised to hear the petitions, the lawyer said he was only trying to persuade the bench to withdraw, so that a singlejudge could start hearing the petitions.

He said that if the five-member bench announced a verdict against them, he "can only file a review before a larger bench or a full court, but if a singlejudge hear our appeals, we will have an additional chance to seek remedy before a three- or five-member larger bench. He argued that if the contempt notices had been served under the Supreme Court Rules of 1976, the law had been repealed, and if the notices had been served under the 2003 law, the process was totally different.

He reminded the court that under the 2003 rules, first a notice and then a show-cause notice needed to be served before the court could initiate contempt proceedings. "In this case, this law has been avoided," he added. Earlier on Friday, the fivemember bench had admitted the PCO judges' petitions for hearing and observed that the registrar's office had no authority to reject and return the judges' pleas.

The judges who have challenged the contempt notices include Justice Hasnat Ahmed Khan and Justice Syed Shabbar Raza Rizvi of the Lahore High Court including ex-chief justice Abdul Hameed Dogar and the former Chief Justice Lahore High Court Chaudhry Iftikhar Hussain.
COMMENTS (1)
Comments are moderated and generally will be posted if they are on-topic and not abusive.
For more information, please see our Comments FAQ