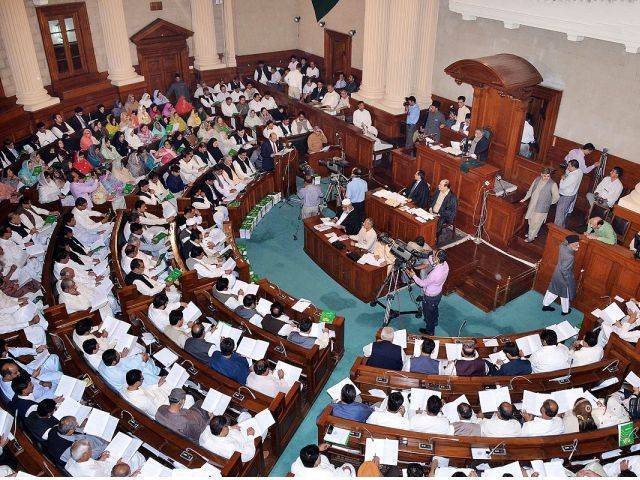 ---
LAHORE:



The provincial government has prepared a draft of a law seeking establishment of vigilance committees at the district, tehsil and union council levels and sent it to relevant departments for their feedback, The Express Tribune has learnt.




A government official privy to the matter said that a bill in this regard would be tabled in the Punjab Assembly during its next session.

Mahar Ijaz Ahmed Achlana, parliamentary secretary for Home Department in Punjab Assembly, said he hoped legislation on the constitution of vigilance committees would be completed very soon. He said The Punjab Vigilance Committees Ordinance 2016, promulgated on January 4, 2016, had already been referred to the standing committee concerned.

The bill draft available with The Tribune states that the DCOs concerned would be the conveners of district committees.

It says that committees will include representatives from the Special Branch of the Punjab Police, the Intelligence Bureau (IB) and two Members of the Provincial Assembly (MPAs) nominated by the government.

Assistant Commissioners will convene the tehsil committees. Other members will include the sub-divisional police officer, representatives from the Special Branch and two members from the general public (a man and a woman). The appointments will be for a three-year term.

The district-level committees will be responsible for establishment of committees at the union council level. Each UC-level committee will consist of a retired officer from the judicial or the police service or the Armed Forces of Pakistan; a social worker or a head of an educational or healthcare institute located in the UC, a representative of the traders community; and two representatives of the community (a man and a woman).

The draft says that vigilance committee will be responsible for collecting information on the presence and movement of subversive or dubious elements. It will ensure that no objectionable or hate literature (likely to incite sectarianism or subversive behaviour) is being distributed in the area by monitoring wall chalking, brochures, pamphlets as well as audio-visual content.

The committees will also ensure that no proscribed organisations and unlawful associations were collecting donations from their areas. They will also keep updated information on tenants in their areas.

The committees will establish a liaison with the security advisory committees.

The draft says that the district-level committees will be responsible for monitoring the performance of tehsil-level committees and the latter of UC-level committees.

Published in The Express Tribune, March 14th, 2016.