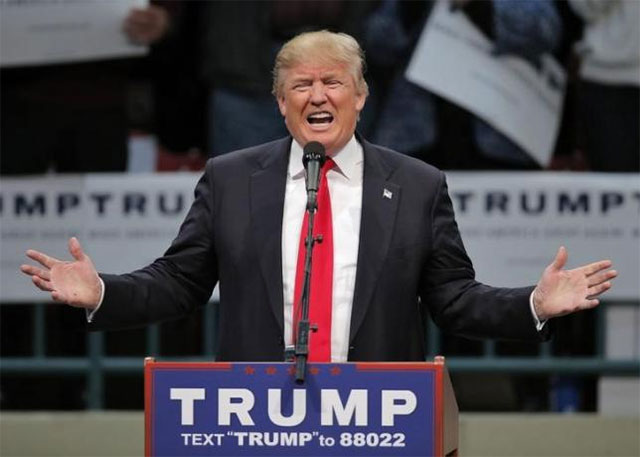 ---
Donald Trump on Tuesday brushed aside as "ridiculous" recent concerns that his call for supporters to raise their hands at rallies and swear allegiance to him evoked images of Nazi Germany.

At least three times beginning with a Saturday rally in Orlando, Florida, the Republican White House frontrunner has urged his backers to "solemnly swear" that they will vote for him for president. Large numbers of supporters raised their hands and recited Trump's pledge.

Trump presidency would not hurt 2024 Olympics bid-LA mayor

Trump was challenged about the actions during a telephone interview on NBC's "Today" show.

Republican presidential candidate Donald Trump addresses the crowd at a campaign rally March 7, 2016 in Concord, North Carolina

"I think it's ridiculous," Trump said.

"Sometimes we'll do it for fun -- and they'll start screaming: 'Do the swear in, do the swear in,'" he added.

"Honestly, until this phone call, I didn't know it was a problem.... If it's offensive, if there's anything wrong with it, I wouldn't do it."

A photograph taken from the back of a Trump rally in Orlando and posted on Twitter by a Washington Post reporter showed several people raising their hands.

Trump poses threat to peace and prosperity: German vice chancellor

Although some people's arms appeared to be angled forward, perhaps along the lines of the style of the Nazi salute, many also pointed toward the ceiling.

The image triggered thousands of reactions, including some directly comparing Trump to Adolf Hitler. Others dismissed the issue as absurd.

In video from Orlando, Trump himself is seen raising his hand at his side, palm forward, to offer the pledge. His elbow is bent and his fingers point straight up, in the style of a US official taking an oath.

Trump already a tainted name in Indonesia after Muslim ban remarks

When an NBC reporter pressed Trump on how some people, reportedly including Holocaust survivor Abe Foxman, a former Anti-Defamation League director, expressed concern that the actions are reminiscent of the scapegoating of Jews in Nazi Germany, Trump was dismissive.

"I think that's a big, big stretch," he said. But he added, "I'll certainly look into it because I don't want to offend anybody."
COMMENTS
Comments are moderated and generally will be posted if they are on-topic and not abusive.
For more information, please see our Comments FAQ