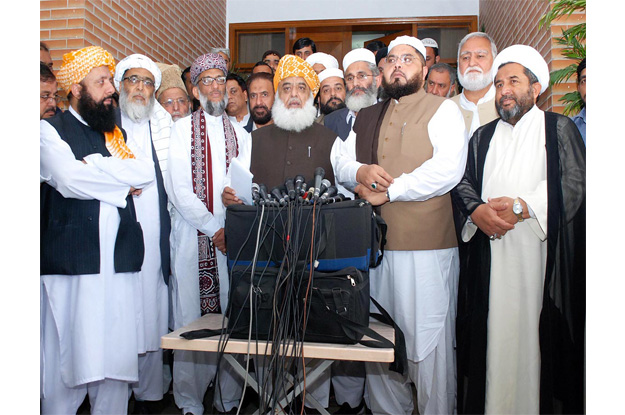 ---
ISLAMABAD: Leaders of religious parties raised fears on Saturday over the possibility of the government repealing the blasphemy law in the future. They also warned that any such move would be opposed tooth and nail by all religious groupings in the country.

"We (religious parties) will protect the law at every cost," JUI-F chief Maulana Fazlur Rehman said.

Willing to review blasphemy law, says CII chief

Speaking to the media after hosting a consultative meeting of all major religious parties following the execution of Mumtaz Qadri and the passage of Punjab Protection of Women against Violence Act (PPWVA) from the Punjab Assembly, the JUI-F chief said: "It seems that efforts are afoot to ... abolish the blasphemy law in the country."

"Those who believe that they would be successful in abolishing the blasphemy law are living in a fool's paradise," said Fazl, who vowed to continue to protect the law at every cost. He disclosed that after Saturday's confab religious parties had agreed to block any such move against the blasphemy law, or any infringement of Islamic values by the government.

Maulana Fazl claimed that thousands of cases were pending before the court, yet Qadri's appeal against his execution was disposed of in haste. "All religious parties are unanimous that Qadri's execution was a judicial murder and the government had a specific agenda behind the execution," he added.

Last month, the Punjab Assembly unanimously passed the women's protection bill – a move that drew the wrath of religious parties. Their representatives believe that the act threatens the foundation of a patriarchal society as it gives too much empowerment to women.

Fazl said that all religious parties will gather at the Jamaat-e-Islami (JI) head office in Mansoora, Lahore, on March 15, to finalise their future strategy against the controversial act. However, he did not say whether they will first start demonstrations or take up the issue in parliament before that.

He also called upon the provincial government to review the piece of legislation. "Few forces are trying to make the country secular but we (JUI-F) will protect Islamic values and strong religious family system," he added.

Calls for blasphemy law reform not against religion: apex court

The meeting was attended by JI Ameer Sirajul Haq, Millat-e-Jafria chief Allama Syed Sajid Ali Naqvi and Milli Yakjehty Council head Sahibzada Dr Abul Khair Zubair and others.

The religious parties have asked Punjab Law Minister Rana Sanaullah to review the legislation at once.

Published in The Express Tribune, March 6th, 2016.
COMMENTS (3)
Comments are moderated and generally will be posted if they are on-topic and not abusive.
For more information, please see our Comments FAQ