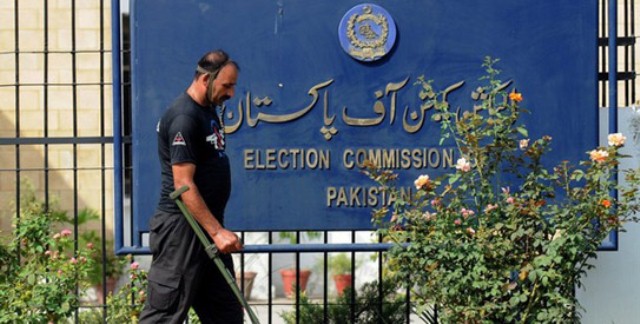 ---
ISLAMABAD:



While the neighbouring India has one Aam Admi Party, Pakistan has around a dozen parties with either a prefix or suffix of Aam Admi (common man) registered with the country's top election body.




In the ever-burgeoning list of political parties, the Election Commission of Pakistan (ECP) has registered 321 recognised political parties while over two dozen more are in the process of registration.

PM Modi concedes defeat to Aam Admi Party in Delhi state elections

A glance at the alphabetically ordered list on the ECP website shows around a dozen similar names like Aam Admi Justice Party, Aam Admi Party of Pakistan, Aam Insan Movement, Aam Log Party Pakistan, All Pakistan Aam Admi Party, Aam Admi Party, etc.

All these parties have been registered in recent years once a party with a similar name became famous in India.

With a free-of-charge and open-for-all registration process, people have also registered parties with funny names like 'Aap Janab Sarkar Party', 'All Pakistan Bayrozgar Party'.

While former military ruler Gen (retd) Pervez Musharraf heads his own party with the name of All Pakistan Muslim League, there is another party registered with the name of 'General Pervez Musharraf Himayat Tehreek'.

In the long list of parties, names of some known parties of the past are still present like the Muttahida Majlis-e-Amal and Farooq Leghari's National Alliance that ceased years ago.

They are enlisted because there is no legal provision to delist a party once it gets registered with the electoral body. The commission can delist a party only if it gets a court order that it has been banned.

"The booming business of getting a party registered is a real headache for us, too," an official of the ECP told The Express Tribune. "We are way short of election symbols now compared to the number of parties we have."

Brilliantly done, Mr Kejriwal

The ECP has a total of 156 election symbols and double the number of parties. Many among the non-serious parties have reserved attractive symbols. Under rules, once a symbol is allotted to a party it cannot be allocated to another one unless the first party agrees to relinquish it in favour of the other.

"If it continues like this, we will have to use symbols like two arrows, two tigers or two bats since we are short of distinguishing symbols," said an official who deals with allocating symbols to parties. "Ultimately serious parties that [actually] take part in elections will suffer."

Among these 321 registered parties, not more than 50 take part in the elections. Among the ones that participate in elections at some level, hardly two dozen have any vote bank in national, provincial or local governments.

Explaining the reasons behind the unchecked growth of political parties, ECP officials said getting a party registered was easy as all one needed was to propose a name, provide a copy of the party constitution and list of its office bearers to the commission. The officials claim the commission had been asking governments to devise some mechanism to check the trend. Most recently it has proposed that a parliamentary committee on electoral reforms modify some existing laws and even frame new rules. The matter has yet to be taken up by the committee which has been working on a reforms package that was supposed to be completed by end of 2014.

Of the possible options to filter non-serious actors, officials suggest parliament can prescribe a minimum voters benchmark or a specific number of seats in any legislature.

Published in The Express Tribune, March 6th, 2016.