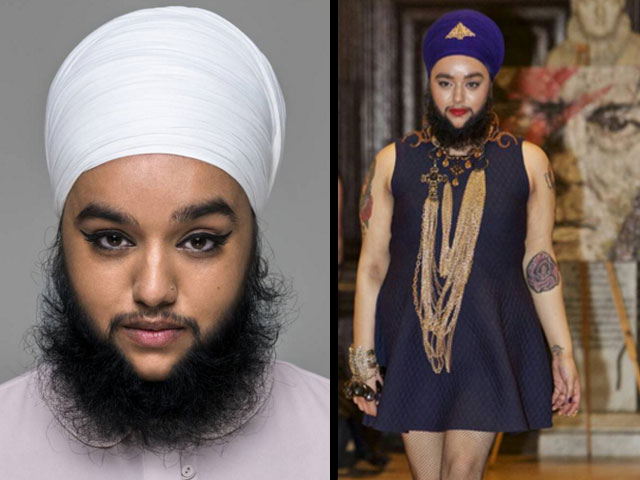 ---
Modelling a full grown beard, UK-based model Harnaam Kaur has been combating traditional beauty standards by taking on the fashion runway with a message of self-acceptance.

"I grew up watching America's Next Top Model, and I admired Tyra Banks wholeheartedly. I always wanted to be like the pretty models, so I remember copying the way they posed and walked. I grew up being told I was too fat, ugly, and disgusting to even model. I was told I'd never walk the runway," she told RocknRoll Bride.

https://www.instagram.com/p/BAkGNOGhsTX/

But she finally got her break when she was asked to open a show at the Royal Fashion Day making her the first bearded lady to model for a celebrity jewelry designer.

She instantly took to Instagram to shame her bullies and all the naysayers.

https://www.instagram.com/p/BCF7zG6BscD/

Here's how much a Victoria's Secret model actually eats

"I was laughed at when I said I wanted to model. Jokes on my bullies. I was lucky enough to walk for @mariannaharutunian as the first bearded lady to walk for a celebrity jewellery designer... Walk with your head up high and ooze confidence always!" wrote Kaur.

https://www.instagram.com/p/BCXzlRRhsXL/

https://www.instagram.com/p/BBAWqgNhset/

Kaur, has polycystic ovary syndrome (PCOS) which causes a hormonal imbalance in women. For Kaur, this meant dealing with an unusual amount of facial hair.

"I used to have my face waxed two to three times a week, and on the days I couldn't bear the pain I would simply shave," Kaur tells RocknRollbride.


https://www.instagram.com/p/98hCMnhsVA/

After years of self-shaming and self-harm, Kaur grew to accept herself and started growing her beard from age 11.

"At the age of 16 I hit my biggest low. I had been suicidal all year due to immense bullying from school and people in society. I hid away and did not want to venture out into the public. My bedroom was my only safe haven. I was hugely depressed," revealed Kaur.

https://www.instagram.com/p/-G46FZhsd2/

https://www.instagram.com/p/8k4jgOhsSr/

https://www.instagram.com/p/BCfljCVhsZ5/

"I remember sitting on my bed and thinking about taking my own life. But instead, as I sat there, I started to counsel myself. I told myself 'The energy you are putting into ending your life, put all that energy into turning your life around and doing something better,'" she said.

https://www.instagram.com/p/9RKOj0BseT/

Designers walk out of 'Runway Pakistan' without showcasing collections

Kaur has taken her message of self acceptance to several platforms. In November 2015, she joined #Effyourbeautystandards as a representative of her fellow model Tess Holidays's movement on Instagram, explaining "I strive to raise awareness on bullying and body shaming that happens in society. I am passionate about helping both men and women find self love and body confidence within themselves."

She has also modeled for Urban Bridesmaid Photography, with her beard adorned with flowers.




"It is the source of my strength and confidence. People just see the beard as hair, but my beard for me is much more than that. I keep my hair to show the world a different, confident, diverse and strong image of a woman... I love my lady beard and I will forever cherish it," she said.


COMMENTS (19)
Comments are moderated and generally will be posted if they are on-topic and not abusive.
For more information, please see our Comments FAQ