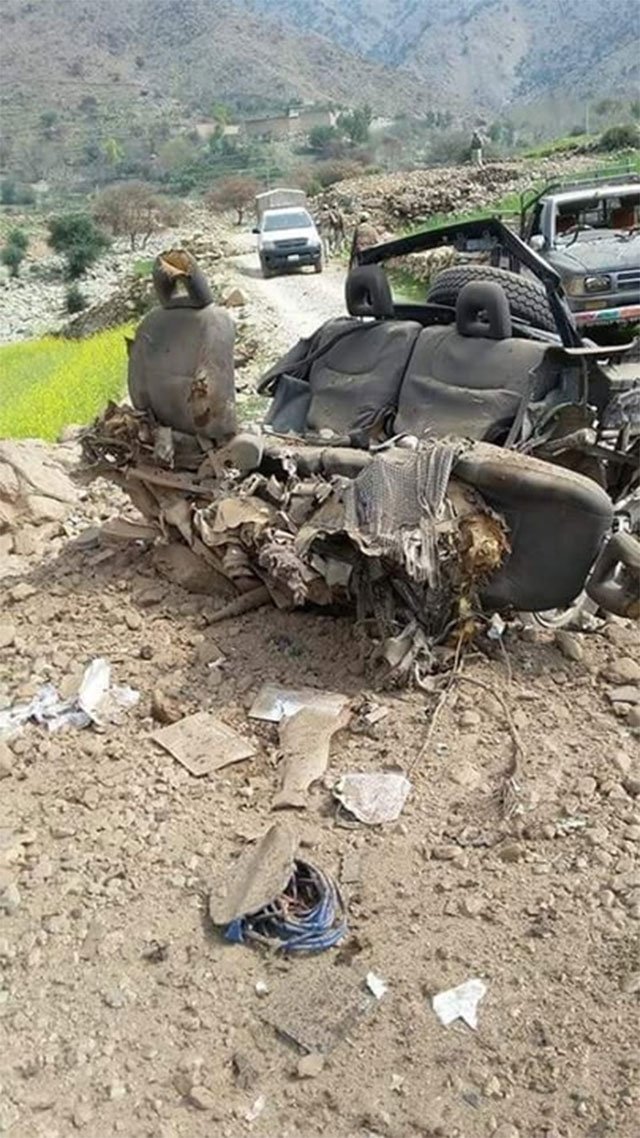 ---
SHABQADAR/ PESHAWAR:



A roadside bomb killed two Pakistanis working for a US diplomatic mission and injured four others accompanying them on an anti-narcotics operation in Mohmand Agency on Tuesday.




The US Consulate in Peshawar confirmed in a statement that two of its employees – Faisal Khan, a project development specialist, and driver, Abid Shah – died in the blast in the Sangar area of Ambar tehsil. They were working with the Fata Development Project's Narcotics Affairs Section.

Two killed in Mohmand Agency IED blast

"We extend our condolences to their families and friends and our deepest sympathy to the injured in the attack on Pakistan's Anti-Narcotics Force (ANF) convoy," read the statement. "The US government strongly condemns the attack. We offer our assistance to the government of Pakistan in investigating the incident and bringing the perpetrators to justice."




In Washington, US Secretary of State John Kerry also expressed grief over the incident. "I woke to the news we had lost two local employees in Peshawar who worked with our consulate there, [and] who were going out on an effort to eradicate narcotics fields," he told an event on countering violent extremism.

The deceased were employed by the Bureau of International Narcotics and Law Enforcement Affairs (INL), an agency that works with the local anti-narcotics force, a mission spokesperson told The Express Tribune. 

An official of the political administration in Mohmand Agency said the blast took place around 11.30am when the jeep the officials were travelling on hit an improvised explosive device planted by a roadside.

Tribal leader injured, one killed in IED blast in Mohmand Agency

The bodies were brought to the Agency Headquarters Hospital. The injured included Tehsildar Faramosh Khan, Narcotics Affairs Section official Aftab Khan and a Khasadar officer. A passer-by was also seriously injured in the explosion.

The Tehsildar and the anti-narcotics officer were later shifted to the Lady Reading Hospital in Peshawar for treatment of their life-threatening wounds.

A Khasadar officer, who accompanied the team, told The Express Tribune the group had surveyed Sangar for poppy cultivation and when they were about to leave the site, an IED went off, destroying the vehicle.

Political Agent Mehmood Aslam was distributing cheques in Ekka Ghund to the families of nine Khasadars killed in a recent militant attack when the IED attack took place. "There will be tolerance for terrorists, who have once again carried out an attack today," said Aslam at the ceremony.

"We do not want the tribes to fight, as our forces are fighting terrorists. But it is the responsibility of the tribesmen to cooperate with political administration and security officials to share information on militants in their areas," he added.

The outlawed Tehreek-e-Taliban Pakistan's Jamaat-ul-Ahrar faction claimed responsibility for what it called remotely controlled attack. In a statement sent to Peshawar-based journalist, the group's spokesperson Ehsanullah Ehsan threatened that his group would carry out more such attacks till the enforcement of Sharia law in the country. The claim could not be verified independently.

Published in The Express Tribune, March 2nd, 2016.