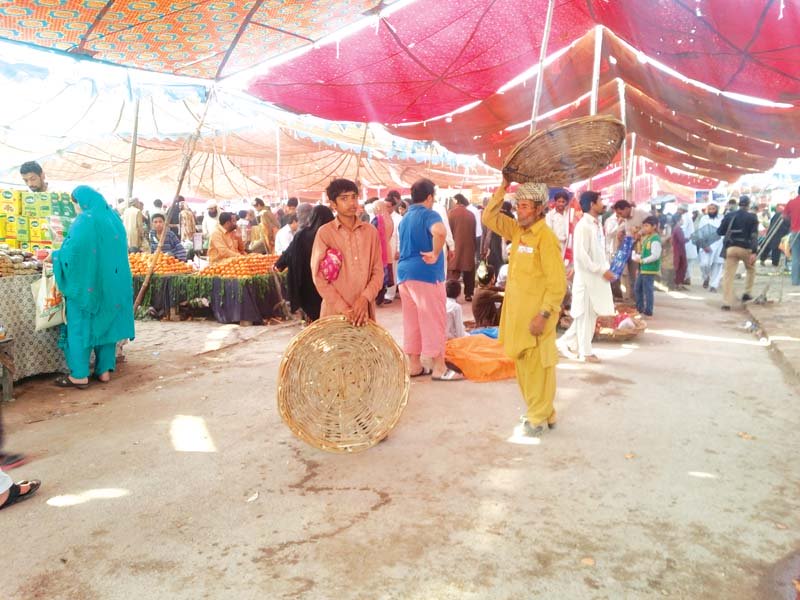 ---
LAHORE:



"I am a grade-three student at a private academy in Green Town. On Sundays, I sell baskets and shopping bags at the weekly bazaars," said Bilal, 10, who was selling plastic items in the Model Town Link Road Sunday Bazaar.




Bilal was wearing an identification card with the name Muhammad Ashraf, trader.

Child rights: All efforts to be made to end child labour at brick kilns: CM

"My father sells vegetables on a handcart and my mother is a housewife. I earn around Rs250 to Rs300 by selling baskets in the Sunday bazaars. I am selling the merchandise of a local trader for commission," he said.

Adnan, 13, was selling willow baskets at the bazaar. "I have been doing this for almost two years now. I also off-load vegetables for a shopper at the Sunday bazaar and make around Rs300 to Rs400," he said. "My younger brother goes to a public school. I have never been enrolled in a school due to the limited family income. My father sells naan chanay on a roadside in Model Town Extension," he said.

Supreme Court lawyer Muhammad Azhar Siddique said the government was making only half-hearted efforts at enforcing the new legislation against child labour. "Politicians and bureaucrats are seen raiding brick kilns. However, nobody is paying any attention to areas closer to their homes, including markets, offices and houses. Irrespective of the kind of work and location of workplace, the law prohibits child labour in the whole province," he said.




Siddique said that the crackdown against child labour was selective. "First, the government should register all children working in various sectors. Then, it should make arrangements to supplement their families' incomes. This will enable the parents to send their children to schools. Otherwise, these children will be soon be back on the roads and streets," he said.

Ending child labour: 'All children at kilns to be enrolled in schools'

He said that the government should utilise the Baitul Maal Department for the welfare of these children and their families. "However, unfortunately this fund is being used for politically motivated schemes," he said.

The Lahore district coordination officer and the labour and human resource minister were not available for their comments.

Published in The Express Tribune, February 29th,  2016.