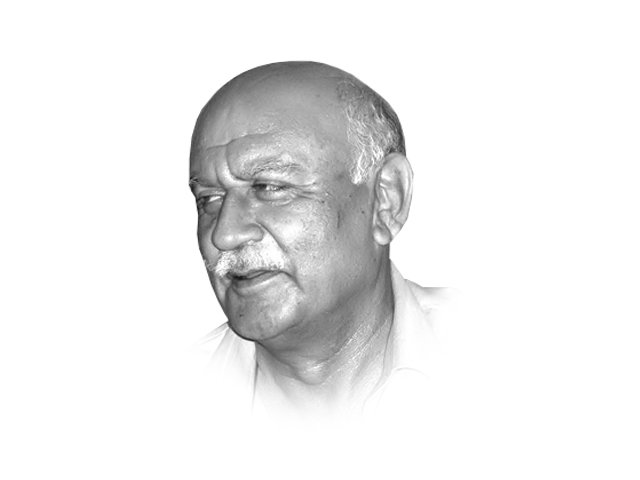 ---
In my last article, I discussed conceptual difficulties in prosecuting terrorists. However, that is merely the tip of the iceberg in many respects. Even if we amend laws to facilitate their prosecution, we are likely to find that practical difficulties will suffice to protect terrorists.

Terrorists are terrorists; they terrorise. Not just the people but also government functionaries, including Law Enforcement Agencies (LEAs) and the judiciary.

Rashid Rehman, a lawyer and human rights activist, is only one name among lawyers and members of the judiciary who have been threatened, targeted and/or killed, by terrorists.

Abdul Aziz, whom I refuse to address as 'Maulana', of Lal Masjid fame, roams our streets unconcerned, even after admitting his connections to Daesh and, in his sermons, encouraging people to swell their ranks, and instigating sectarian hate. It took a prolonged 'sit-in' merely to register an FIR against him. But it did not take long for him to make bail.

Our minister of the interior reassures us that there is no prosecutable evidence against Aziz. Perhaps that is true. But, could it possibly be that, neither the minister nor his underlings are very industrious in seeking evidence against him?

In 2009, when Swat was retaken, over 1,500 Taliban were captured by the army. The ANP government refused to prosecute them. In fact, following an attempt on his life, the party leader, Asfandyar Wali Khan, fled the country and did not return until reassured that he would not be targeted again.

Anne Paterson, then US Ambassador to Pakistan, wanted to take a delegation of human rights activists to see them. General (retd) Ashfaq Kayani, then COAS, told her that she could inform the delegation that they were in 'illegal custody' but the army refused to release them.

She didn't take that delegation to Swat.

Salmaan Taseer was targeted by his own guard and killed, while he was governor. The judge who found Qadri, his murderer, guilty, had to flee the country, while lawyers garlanded Qadri. President Zardari, a bosom pal of Taseer, could not find time to attend his funeral.

Chaudhry Aslam is one of many names among brave police officers who were killed by terrorists because they refused to be terrorised. Shuja Khanzada numbers among the few brave politicians who also refused to be terrorised; but then he was a former soldier.

In this atmosphere pervaded with fear, let us review the practical process of prosecuting terrorists.

LEA is divided in two functions which frequently overlap. The policing agencies that ensure maintenance of order within a country and, when order is violated, they identify suspect(s), and collect evidence which, when taken to court enables prosecution.

When a crime occurs for which no suspects are readily available, expert investigators of policing agencies start gathering forensic evidence to piece together laboriously and identify one or more suspects.

Regretfully, our policing agencies have never (till recently) felt the need for acquiring expertise in investigation, let alone forensics or crime scene investigation, both of which are specialisations. In fact, even post-mortems are specialist functions under forensic pathology.

Since our inception, in fact even well before it, our policing and investigative functions have been pathetically primitive.

What is worse is that our police personnel were never trained as marksmen, let alone a handgun — the most difficult and inaccurate weapon, unless in a trained hand.

As if that were not enough, police personnel have never learnt to exercise initiative, except in corruption. Nor are they trained for rapid response functions. Even today, most of the police commando personnel, though heavily muscled, are seldom of athletic built or quick on their feet.

This is not intended as an indictment, but merely a statement of facts that existed until recently. It is really not the fault of police personnel if they are neither selected nor trained on the basis of honing their policing abilities.

Nor is it their fault that a SHO, a lowly officer, rules his domain like a kingdom, but is paid a pauper's wage. That thanas are auctioned for hundreds of millions of rupees, is now a well-known fact. The SHO is as powerful and corrupt in his territory as the patwari is in his domain of land revenue.

Where will a lowly police official raise that kind of money from? And, if he does do so, is it not for the specific intent of recovering his investment many times over? And if that is so, how many other coffers does he fill every month to get away with the level of corruption necessary for all this to be a way of life?

The redeeming factor is that, of late, an increasing number of bright and dedicated, honest young officers are joining the police force. And, since the war on terror, intensive training of police personnel, in all spheres necessary, has begun.

It doesn't end here. What of the judiciary? In an environment of rampant corruption, can our judiciary, the judges, remain untarnished and clean? I think not.

While things seem to have begun to improve at the grassroots level, we still have those at the highest level subverting us. Rumours of the cause of NAB having incurred the wrath of the PM are running rife; and none of them reflect creditably on him.

In the latest development in Karachi, Rangers have accused police and judicial personnel of deliberately losing evidence against Dr Asim Hussain, the PPP accused who is reputed to have provided evidence against the entire PPP hierarchy. If he is not rescued by them, the list of those indicted might read like a "Who's Who" of Pakistan.

Published in The Express Tribune, February 29th,  2016.

Like Opinion & Editorial on Facebook, follow @ETOpEd on Twitter to receive all updates on all our daily pieces.