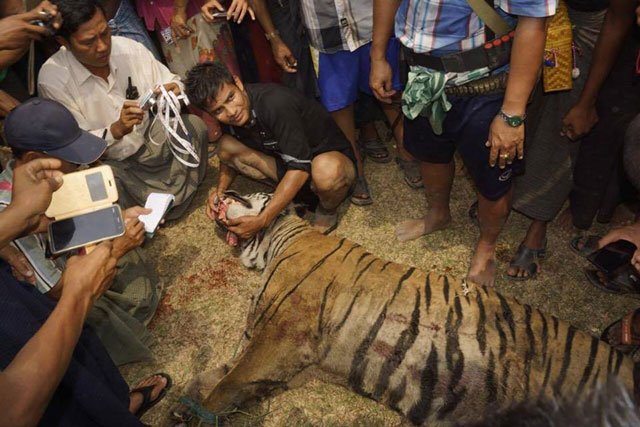 ---
YANGON: An endangered tiger was shot dead by security forces in eastern Myanmar Thursday after it attacked local fishermen as they tended their nets, the state military newspaper reported.

Soldiers and local authorities hunted the animal "to prevent danger to villagers" after it mauled the two men in the early hours of the morning, the army's Myawaddy paper said in a post on its Facebook page.

Myanmar's tiger population is a fraction of what it used to be.

The country created the world's biggest tiger reserve in northern Kachin state, but in 2010 that park was estimated to contain just 50 tigers.

Rampaging elephants force Myanmar villagers to tree-top refuge

The report on the attack in Kawkareik, Karen state, showed pictures of the dead animal surrounded by people taking pictures on their phones, along with graphic images of a deep gash on the back of one of the men.

Deforestation and poaching have devastated tiger numbers in Asia, with recent estimates from the International Union for Conservation of Nature (IUCN) putting the global population at just 2,154.

A forestry department official said civilian authorities were seeking further information on the tiger killing, adding that a local military-linked militia was thought to have shot the animal.

He said a few tigers were thought to be living in Karen's mountains, but that no surveys have been done in decades because of the presence of various armed groups.

"Tigers are very rare. It is critical to preserve them," he said. "There is not much left for them to eat in the forest because of deforestation, so their behaviour has changed," he told AFP, requesting anonymity.

Myanmar has been wracked by conflict between the national military and ethnic armed groups for over half a century.

India's endangered lion numbers increase

While conservationists applauded the creation of Kachin's tiger reserve, conflict and the close proximity of China -- the world's largest consumer of tiger parts -- have raised fears for its sustainability.

IUCN says Myanmar is one of several Southeast Asian nations that do not support breeding tiger populations.
COMMENTS
Comments are moderated and generally will be posted if they are on-topic and not abusive.
For more information, please see our Comments FAQ